The Singer Quantum Stylist 9960 (available to buy on Amazon or Walmart) is one of the most popular sewing machines of the last few years.
It's modern, computerized, and comes with a host of accessories to facilitate practically any sewing project. Built from the ground-up with ease of use in mind, the Quantum Stylist 9960 can be used for clothes making, home decor, crafts, and all manners of stitching repairs.
In many ways, it's the perfect 'all-rounder' machine.
While not the cheapest machine available, it nevertheless offers excellent value for money, especially considering that for many sewists, this machine will last a lifetime.
Our Singer Quantum Stylist 9960 review is a compendium of everything you need to know about this sewing machine before buying — both the good and the bad.
Let's get straight down to it…
Sale
Singer Quantum Stylist 9960
SINGER COMPUTERIZED SEWING MACHINE: The SINGER Quantum Stylist 9960 portable sewing machine has loads of ease-of-use features to allow you to fulfill your creative dreams. Has a large selection of stitches including basic, stretch and decorative stitches for fashion sewing, quilting, home decor and crafting. There's even a selection of fonts to personalize projects
Introducing the Singer Quantum Stylist 9960
Who Is It For?
The Quantum Stylist series is designed for the new sewist, or for anyone who wants an affordable machine with many advanced features that won't break the bank.
A variety of presser feet makes this model particularly popular with those who sew home decor and crafts, as well as those interested in making their own clothes (or fashion lines!).
In fact, the Quantum Stylist 9960 is one of Singer's bestselling sewing machines of all time.
It offers a ton of features at a great price.
While it's not what you'd call a 'heavy duty machine' – we'd recommend the Janome HD3000 or Singer Heavy Duty 4452 for the thickest fabrics and multiple layers – there's a reason why so many experienced sewers still opt for this as their main machine.
It's incredibly versatile and capable of tackling the majority of projects you're likely to encounter, barring any seriously heavy duty fabrics.
A huge 600 built-in stitches, plus 13 fully automatic 1-step buttonhole styles, and excellent reliability make this a fantastic computerised machine that will continue to meet your needs as your abilities grow.
The Look
The Singer Quantum Stylist isn't exactly the smallest sewing machine on the market, weighing in at a little over 20 pounds, but it sure looks the part.
The white and gray tones of the machine give it a sleek and professional look while the unusual 'start/stop' button stands out in green.
What's clear is that everything is easy to find: the speed button can be easily operated while using the manual controls, and the sewing lights and drop-in bobbin are thoughtful touches, making life a little easier on the tired sewer.
The sewing area seems rather small when starting out, but thanks to the included extension table, projects that need more space can be easily tackled as well.
When you don't need the machine, it can be covered up with the included hard cover.
Let's take a tour around the features…
Extendable sewing table with ruler
Top drop-in bobbin with clear cover
Start/Stop button
Speed slider
Lid (when opened, has a 600-stitch chart)
LCD screen and Digital Information Advisor
Specs
Weight: 20 pounds
Dimensions: 17.2 x 8.2 x 12 inches
Stitches: 600 built-in stitches including 13 automatic step buttonholes
Speed: up to 850 stitches per minute
Computerized/Mechanic: Computerized
Bobbin: top drop-in with see-through plate to keep an eye on your thread
Warranty: 1-25 year limited warranty, depending on the component
Accessories
The accessories included with the Singer Quantum Stylist may overwhelm crafters new to the art, but will certainly be appreciated in the long run.
The included feet are 18 in total:
All-purpose foot
Zipper foot
Buttonhole foot with underplate
Button sewing foot
Blind hem foot
Satin stitch foot
Open toe foot
Overcasting foot
Darning and embroidery foot
Rolled hem foot
Cording foot
Straight stitch and quilting foot
Even feed and walking foot
Braiding foot with guide
Adjustable bias binder foot
Single welt cording foot
Stitch-in-the-ditch foot
Fancy trim foot
Accompanying presser foot shank.
No wonder so many people view it as the best all-purpose sewing machine! We haven't got around to using even half the feet included yet.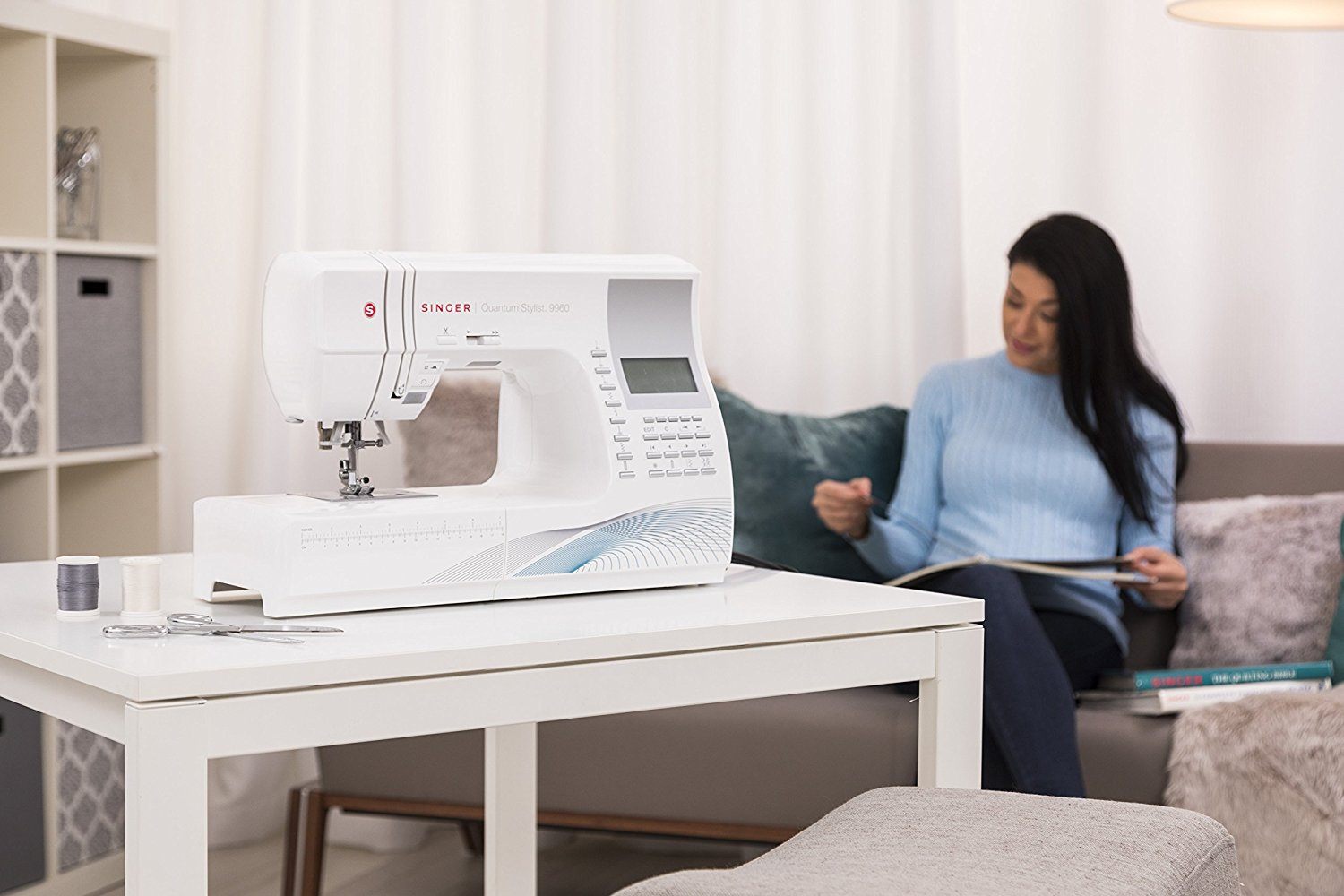 The ever-handy clearance plate has found its place as well in the provided accessories and makes up the rest of the essentials, accompanied by:
Needles
Bobbins
A seam ripper and seam guide
Brush
Auxiliary spool cap
Spool pin felt
Screwdrivers
Thread spool caps.
Enclosed quilting bar
The Company Behind The Machine
Singer Corporation has been in the sewing machine business since 1851 and, to this day, continues to produce high quality sewing machines that appear all over the world.
From winning first prize at the Paris World's Fair to demonstrating the first workable electric machine in 1910, the company has shown they know their way around a sewing machine.
This is proven by the variety of sewing-related products they offer: needles, bobbins, and sewing cases are just a few of the products available next to the Singer 9960 Quantum Stylist or its many siblings.
They have remained true to their roots and remain one of the top five names in the sewing world.
The Warranty
The warranty ensures that, during the first year after purchase, any defects found in your Singer 9960 Quantum Stylist will be fixed or replaced for free, including any required adjustments or problems with attachments.
After the first year has passed, labor costs for any replacements or repairs will be billed.
It's a 25 year limited warranty, which varies according to the part:
Sewing machine head — limited 25 years
Motors, light assembly, wiring, switches, speed control and electronic components — limited 5 years
Adjustment, belts, rings, bulbs and attachments — limited 1 year
You can read the full warranty document here: singer-quantum-stylist-9960-warranty.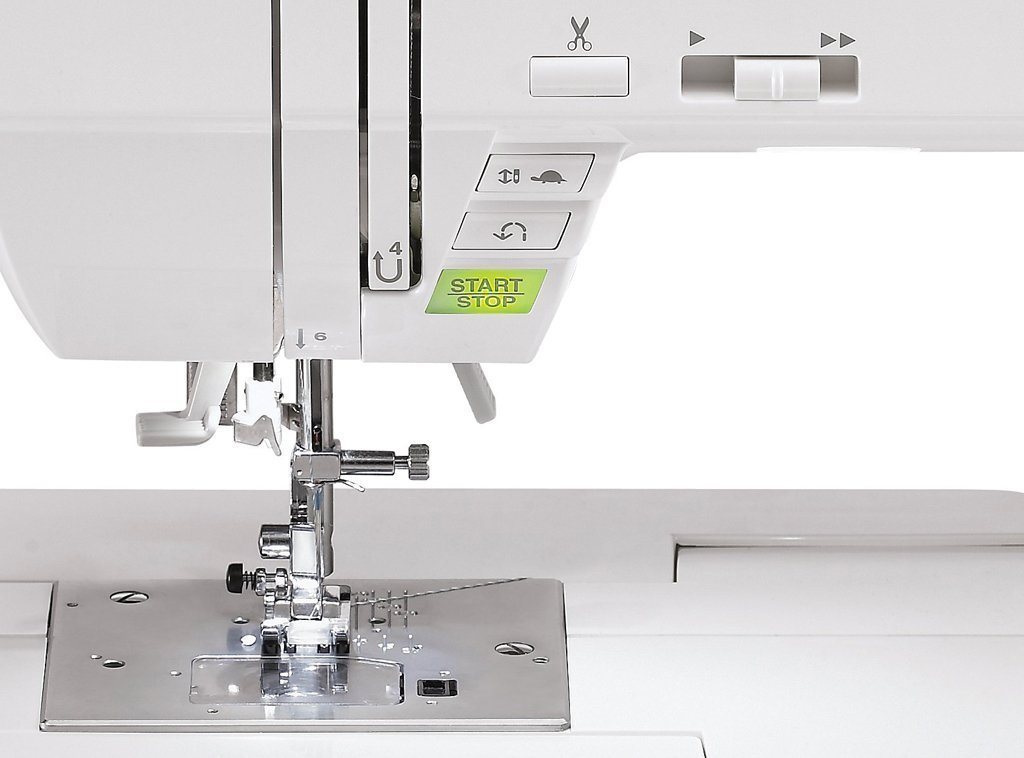 Top Features of the Quantum Stylist 9960
Singer advertize the Quantum Stylist 9960 as a "dealer quality machine at a fraction of the cost" — and we have to agree.
This machine is feature-rich.
The Stitches
Perhaps the biggest attraction of the Singer Quantum Stylist is the huge number of custom stitches this machine has waiting for you to discover.
There are 600 in total, including 13 fully automatic one-step buttonholes and 4 different calligraphic styles!
There's a chart printed on the upper lid of the Quantum Stylist 9960 which will allow you to browse all the stitches at once before you select which is the most appropriate for your project.
Automatic Needle Threader and Cutter
While beginners may find the amount of features a little overwhelming on the Singer Quantum Stylist, the mechanics are in place to make it a really easy machine to master.
This starts with the automatic needle threader. So efficient is this that Singer says you can have the entire machine threaded — from the spool right to the eye of the needle — in an eye-watering 6 seconds.
Did we manage to thread it that quickly? After a bit of practice, you couldn't even see the thread we were so quick with it!
Here's a great video on how easy it is to thread:
There's also an automatic thread cutter for extra efficiency too.
You really get the impression that although this machine isn't necessarily targeted at beginners, Singer have truly endeavoured to ensure that the Quantum Stylist 9960 is one of the most user friendly sewing machines on the market.
Top Drop-In Bobbin
Added to the above, the easy top drop-in bobbin system is equally easy to use. It's made even more user friendly thanks to the clear plate that allows you to easily monitor the amount of thread left.
There's also automatic bobbin winding.
Electronic Auto Pilot and Speed Slider
The Singer Quantum Stylist 9960 comes equipped with foot control, but less confident sewers may feel more confident using the electronic auto pilot function instead.
This allows you to sew without the foot pedal and will cue you in when there's an error and point out the problem area. If you prefer to work without this assistance, it can be turned off via the LCD screen.
There's also a sliding function on the face of this sewing machine that controls the maximum stitching speed — ideal for beginners or people who require additional precision in their sewing.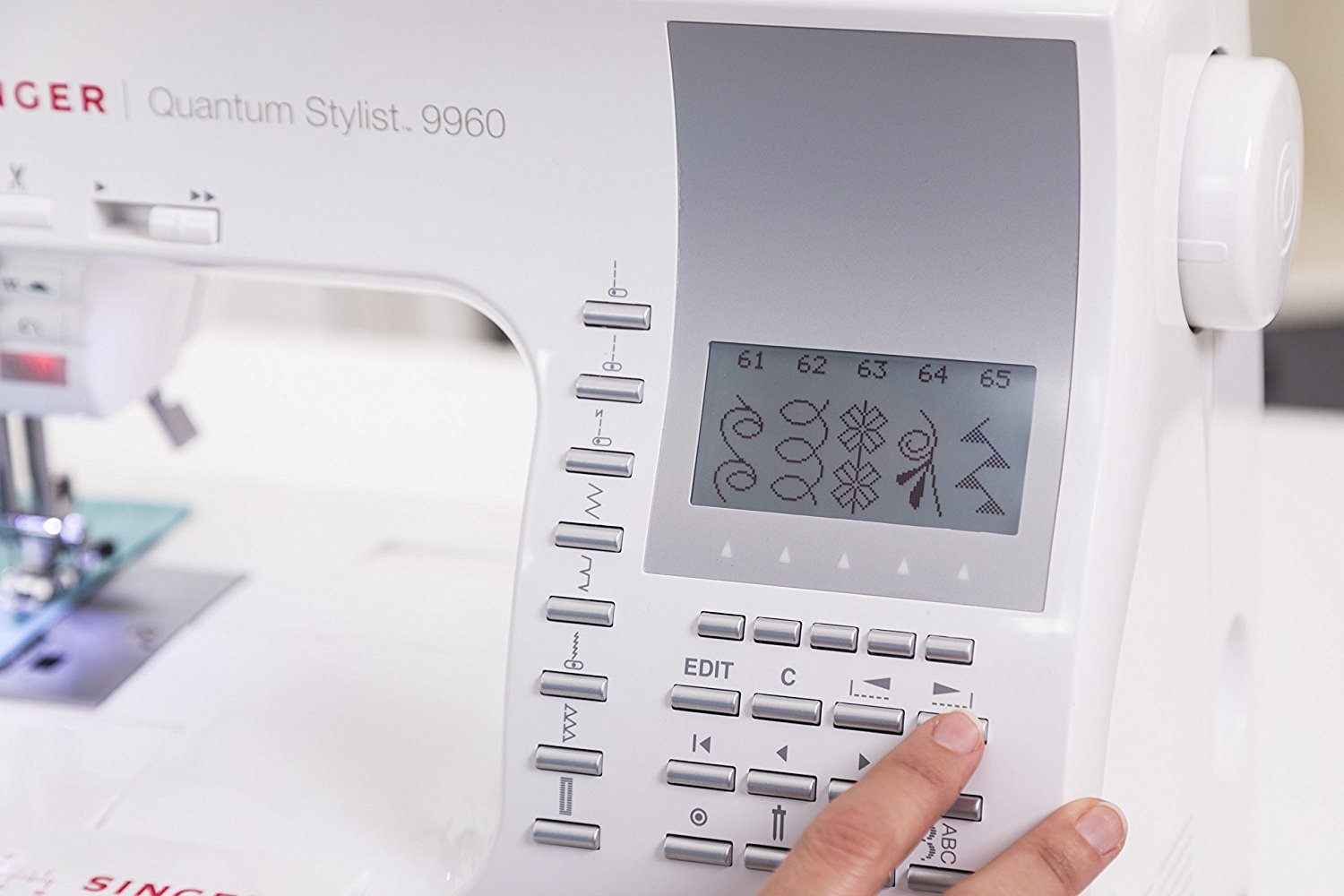 LCD Screen and Digital Information Adviser
One of the first things you'll notice about this machine is how advanced it looks.
Computerized, it has an LCD screen and a so-called digital information adviser, which allows you to quickly and easily select your required stitch, length and width and will even recommend the best presser foot for you.
You can even edit your designs with mirror imaging and elongation editing features via this screen.
Other Features:
Needle up/down button
Drop feed with box feed motion
Free arm
Brightness control on the LCD screen
2 LED lights
See more: Which is the best Singer Quantum Stylist model?
Singer 9960 Quantum Stylist Review
The Positives
Lots of Creative Freedom
The sheer amount of custom stitches opens up so many creative options, and with four different fonts to choose from, projects become easier to handle. Mirroring the patterns is a nice touch and cuts out some of the thinking work too.
Just like with fashion, your work can be vastly improved by having the correct accessories.
Thanks to all the added goodies with the Singer Quantum Stylist, you don't have to spend a lot of time tracking down individual components to add to your machine.
With the added storage spaces in the Quantum Stylist 9960 itself, there's little to no chance of misplacing these, and most of the feet are compatible with other machines too, if you like to mix and match.
Excellent Stitch Quality
The most important question to ask of a sewing machine — how well can it actually sew?
We're pleased to report that it sews very well indeed.
Stitches are always even and secure and it handles even heavy weight fabrics well — even vinyl and leather!
The variety of accessories that come bundled with the machine really open up lots of new opportunities for materials and sewing designs.
Easy to Use
The surprisingly useful Digital Information Adviser and electronic autopilot pinpoints areas where something went wrong during your session and shows which feet you need for your currently selected stitch.
All the feet are labeled with letters or numbers, so finding and attaching them is easy.
The actual mechanics of the machine are equally intuitive — particularly the automatic needle threader and top drop-in bobbin.
If you want to read more about how to use the Quantum Stylist 9960, check out the easy to read instruction manual here.
Other Things We Love:
Bright sewing area
Fast (yet adjustable) stitching speed
Great for clothes making
The Negatives
It Can Be Overwhelming for Beginners
Although the 9960 Quantum Stylist is easy to use for new and experienced sewers alike, the sheer number of stitches and features that come attached to the machine can be a tad overwhelming at first.
One thing we'd recommend is reading the User Manual cover to cover and taking some time to really experiment with the machine.
You can read the instruction manual here: singer-quantum-stylist-9960-user-manual
Can't Save Your Own Patterns
Perhaps one of the biggest letdowns that comes with the 9960 Quantum Stylist is that you can't save your own patterns on the machine.
This would have been a nice touch and could have lifted the sewing machine that much higher over its competitors.
Small Work Area
The small work area standard to the machine will be frustrating for quilters or people hoping to add plenty of embroidery to their projects. If either of those two are your main area of interest, you might want to consider looking around for a more stand alone embroidery machine better suited to your needs.
The added workspace expansion alleviates some of the stress and does make the occasional quilting session worthwhile.
The Quantum Stylist was made to be all-round with focus to more everyday sewing, so that's what you're getting.
Small Things That Could Be Improved
It's heavy and not particularly portable
Overall Verdict
The Singer 9960 Quantum Stylist is extremely competitive when considering the price and the various extras included.
Both experienced and new sewers can use it easily, while questions are answered in an easily accessed manual.
Those looking to do their day to day sewing will get the most out of this machine. Avid quilters can certainly find enjoyment in its use, but might dislike the smaller working area.
There's lots of creative freedom that comes packaged with this machine, and we think this is why its a favorite amongst clothes makers.
We recommend it for first-time sewers for its smooth learning curve, and for experienced sewers who are looking to replace one of their older machines.
See more: the best sewing machines for making clothes
Where to Buy the Singer Quantum Stylist
Believe us when we say that the Quantum Stylist 9960 is popular.
You can find it both in store and in a variety of places online.
Here are the best places to compare prices. Find the best deals on the 9960:
And, of course, you can find it on Amazon:
Sale
Singer Quantum Stylist 9960
SINGER COMPUTERIZED SEWING MACHINE: The SINGER Quantum Stylist 9960 portable sewing machine has loads of ease-of-use features to allow you to fulfill your creative dreams. Has a large selection of stitches including basic, stretch and decorative stitches for fashion sewing, quilting, home decor and crafting. There's even a selection of fonts to personalize projects
---
Now that's everything you need to know about the Singer Quantum Stylist 9960 sewing machine!
Have you tried it yet?
Want to see other models before you make a decision? See our latest user reviews.
Singer Quantum Stylist 9960 Review
User Experience

Sewing Specs

Good for Beginners?

Craft Sewing Specs

Value for Money
SFH Verdict
The Singer Quantum Stylist 9960 is one of the most popular sewing machines on the market for a reason — it's easy to use, got 600 in-built stitches and lots of features for both general sewing and crafting.
It's not the most portable machine, and beginners may find it a little overwhelming, but the 9960 offers unbeatable value for money.