One of the easiest ways to get started with sewing is to grab yourself one of the many starter sewing project kits.
These all-in-one packs will equip you to create your first sewing project with ease — plus you don't have to spend lots of time and money hunting for the best sewing gear yourself.
There are sewing project kits for beginners widely available, as well as those designed specifically for adults and kids. They typically include a variety of different threads, buttons and needles – everything you'd need to carry out emergency sewing repairs, or to mend clothes on the move.
We've rounded up the best sewing kits on the market today. Here's quick preview of our three top picks:
Sewing Kit
LaBeila Professional Sewing Kit
Artika Premium Sewing Kit
Singer Mini Sew Essentials



Our Verdict
Beautiful wooden box full of sewing supplies that makes for a perfect gift - or a useful emergency repairs box.
An impressive collection of over 100 sewing supplies at a great price. The perfect starter kit for somebody looking to take up sewing.
A comprehensive sewing kit from Singer that holds 40 large sized spools of thread. Excellent quality and a good mix of supplies.
Sewing Kit
LaBeila Professional Sewing Kit

Our Verdict
Beautiful wooden box full of sewing supplies that makes for a perfect gift - or a useful emergency repairs box.
Sewing Kit
Artika Premium Sewing Kit

Our Verdict
An impressive collection of over 100 sewing supplies at a great price. The perfect starter kit for somebody looking to take up sewing.
Sewing Kit
Singer Mini Sew Essentials

Our Verdict
A comprehensive sewing kit from Singer that holds 40 large sized spools of thread. Excellent quality and a good mix of supplies.
Let's take a closer look and see which one you want to try out!
What Are The Best Sewing Kits?
We've bundled some of the best crafting and sewing kits together in our sewing project kits review.
These sets aren't just great for mending clothes and carrying out repairs – they're also brilliant gift ideas for anybody who loves sewing or crafting.
LaBeila Professional Sewing Kit
We love this beautifully designed sewing box from LaBeila.
It would make the perfect gift for a beginner, or somebody just getting started in the craft world. But it's also a great box of portable supplies to have if you need to carry out some emergency repairs.
The box contains 24 polyester sewing thread spools, an extra thick white/black 400m thread, metal thimble, tape measure, small sewing scissors and 20 stitch markers – plus plenty of other starter supplies.
The wooden box is a lovely touch that looks much nicer than the other black cases in this list – something to keep in mind if you're giving it to a loved one as a gift!
Pros
Beautifully designed sewing project kit
Great for beginners and new sewers
Perfect gift idea for somebody who loves sewing
Good quality supplies
Good for emergency sewing repairs on the move
Cons
The box could do with a better handle
Slightly more expensive than other options
Embroidex Sewing Kit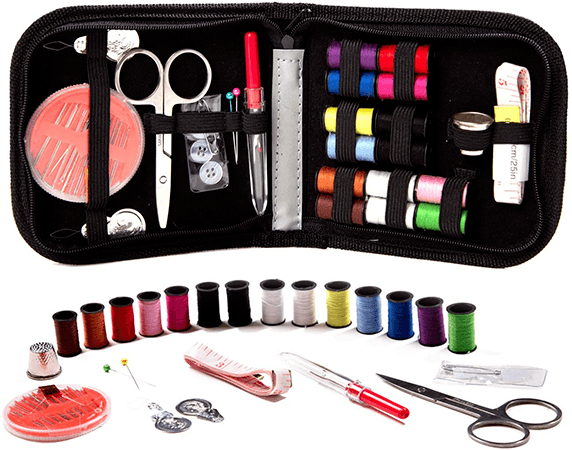 Despite its diminutive size, the Embroidex sewing kit is one of the best selling kits on the market right now.
Its super portable, zip up leatherette carrying case contains a good but basic choice of sewing tools that can be taken with you anywhere when traveling (just slip it into your purse) or when using it in the home.
This affordable priced set includes buttons, a thimble, a good variety of needles in different sizes, a conveniently sized seam ripper, two needle threading tools, a selection of spools of colored thread, some large headed pins, a safety pin, a flexible measuring tape, and a pair of sharp scissors to help you carry out sewing and embroidery projects.
Pros
Excellent value for the price
Good pair of sharp scissors included
Convenient compact size
Good range of items
Ideal for most basic jobs
Great as a travel sewing kit
Well made
Well organized interior
Good selection of thread colors
Cons
Quality of certain items could be better
Great for travel but less suitable as a home kit
Singer Mini Sew Essentials
Top quality sewing brand Singer offer up this comprehensive little professional sewing kit packed with tools and accessories for both machine and hand sewing.
It can hold up to no less than 40 different large sized spools of thread, and comes equipped with an excellent range of colors from lights to darks.
The case is made from a durable hard plastic to keep everything neatly stowed away and protected, and it's easy to carry around when traveling thanks to the convenient handle.
There are even a couple of external pouches to store small books or project patterns, so it's a great option for taking to sewing class.
A vinyl coated 5 foot measuring tape, numerous round headed pins with pin cushion, 3 thimbles in different sizes, a variety of 30 needles plus needle threading tools, a practical seam ripper, 3 thimbles and a large pair of dressmaking scissors complete the package. There are a whopping 166 pieces included in total.
Pros
Inexpensive
Lots of kit for the price
Practical for beginners
Sturdy adult sized scissors cut well
Comprehensive range of colors included
Easy to add to thanks to external storage compartments
Solidly built case
Very well organized
Compact and portable
Cons
The thread spools can sometimes fall out of place when opening and closing the case
Some buyers have reported a little difficulty with the latch on the case
Singer Beginners Sewing Kit
Another offering from Singer, this kit is one of our favorite sewing craft kits for kids and novice sewists. It's super affordable, but despite the low price it still contains 130 assorted sewing tools and accessories housed in a plastic pouch.
Blue and white chalk pencils for marking dark or light fabrics are a helpful inclusion in this kit that isn't found in many other basic kits, as is the practical measuring gauge.
There is also a sufficiently long 5 foot flexible measuring tape, a decent pair of 8 inch angled scissors, a seam ripper, and a metal thimble to protect delicate fingertips.
The Singer 1512 Beginners Sewing Kit has a choice of 11 spools of quality polyester thread in different colors, and 100 pins and 10 various needles – plus a cute tomato shaped pin cushion to keep them organized in one place.
Pros
Great for kids or adult beginners
Low price
Makes a great gift
Has all the necessary basics
Pin cushion, gauge and pencils are a nice addition
Ideal for everyday and emergency repairs
Bent scissors cut well
Fun pink color
Cons
Plastic pouch is not sturdy
Not suitable for bigger or more demanding sewing projects
Singer Sewing Kit in a Storage Box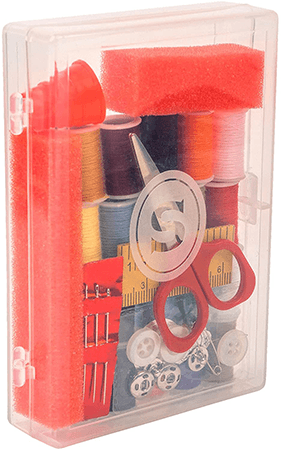 Singer take the prize for the smallest sewing kit with their Sewing Kit in Storage Box.
The mini storage box is constructed from hard plastic to protect the contents, and comes with a transparent lid to enable you to easily see everything inside at a glance.
At around 4″ x 3″ x 1″ this kit can be taken with you anywhere in your purse or travel luggage, or if you already have a sewing box it will make a useful addition.
Due to its small size, there's a little less variety in this kit than some of the others on our list, but it nevertheless has the basics covered with 20 mini spools of thread in a mixture of colors, some buttons and snap fasteners, a measuring tape, plastic thimble, pointed mini scissors, some safety pins — plus some needles with accompanying needle threader and a foam pin cushion.
Pros
Ideal for repairs on the go, everything is at hand
Super low price
Makes a great stocking filler
Better variety than other miniature sewing kits
Performs well for simple tasks
Convenient, compact and portable
Cons
Quality of components is on the lower end of the scale
Scissors are a little ineffective for some tasks
Needles are tiny and can be difficult to use
Artika Premium Sewing Kit
Next on our list is this Artika sewing project kit. Jam packed with different tools and 18 spools of prettily colored thread, this is a high quality and practical kit.
The compact, wallet style case is made from leatherette fabric, and features a zip closure and elastic retainers for each item in the kit.
There are many tools that you would expect to see included in this kit, such as safety pins, shirt buttons, metal snap fasteners, a nice needle set with a great selection of sizes and needle holes, needle threading tool, measuring tape, smart stainless steel thread scissors, white chalk pencil, and seam ripper.
There are over 100 pieces in total, making this a superb project kit for anybody looking to stock up on a variety of sewing supplies to carry out repairs. Or if you know somebody who loves sewing – it's a great gift idea, too!
Pros
Tools are good quality for the price
Very versatile – includes some unusual tools
Small and light
Good for travel or in the office
Useful for all age groups and those new to sewing
Handy for emergencies
Cons
There are no regular long pins included
Measuring tape quality is not so great
Embroidex Mini Sewing Kit for Travel

If you're looking for a chic little sewing kit, you'll love the Embroidex Mini Sewing Kit.
One of the best things about this kit is the snazzy, hot pink zip-up case which uses elasticized holders to keep all the items in place and nicely organised — it really makes a statement!
As part of this kit there's a nice pair of small scissors in quality stainless steel, a supple tape measure, a sturdy little seam ripper, a good selection of needles plus two needle threaders to make threading easier, a solid metal thimble, 3 small plastic buttons, two pearl headed pins, and 12 spools of thread in an attractive range of colors.
Pros
Colorful and fun, as well as practical
Lightweight and small – easy to store and to carry
Great for emergencies when traveling or on vacation
Appropriate for kids, teenagers and adults
Case has pockets for extra storage
Has all the basics novice sewists need when learning
Practical for making quick repairs
Quality and choice are good for the price
Makes an excellent gift
Cons
Best suited to basic projects
Some buyers have reported issues with the zipper on the case
Dritz Zipper Repair Kit
Moving onto something a little different, the Dritz Zipper Repair Kit is a lifesaver when it comes to zipper emergencies.
This kit features an array of zipper sliders with top and bottom stops is perfect for repairing broken zippers on jeans, or fixing that irritating zipper on your coat that just won't stop sticking – without having to replace the whole zipper.
The kit comprises a mixture of 4.5mm and 5mm metal tooth sliders, 2.5 mm nylon coil sliders, 5 mm bottom stops, and 5 mm top stops in a range of different metallic finishes to suit all applications.
Pros
Contains almost everything to quickly and easily repair most zippers
Much cheaper than paying for complete zipper replacement
Good range of component sizes and colors
Affordable price
Zippers are good quality
Reliable brand
Cons
Doesn't contain the appropriate size for every job
User guide can be tricky to read
See more: How to sew a zipper.
What Is A Sewing Project Kit?
Inspired by the idea of getting crafty and sewing your own projects but not sure where to start?
If you're bursting with creativity and itching to start stitching but daunted by the myriad different sewing tools and accessories available, a sewing kit is a great way to get all the essentials you need to get you off the starting blocks.
Sewing craft kits for kids or adults make great presents too.
It's hard to know what you're going to need for any given project, but here is our rundown of things that you can expect to find in a good sewing kit which will cover all the basics…
Thread
Yes, it may sound obvious, but a decent basic spool set of quality thread in different colours and/or weights is invaluable.
Scissors
Sewing scissors come in many shapes and sizes for different tasks, but a good sewing kit should have at least one pair for cutting fabrics and snipping threads.
See more: the best sewing scissors.
Seam ripper
A small, sharp seam ripper is the perfect tool for unpicking hems and other stitching to reverse any errors quickly with the minimum of effort.
Pins
There are oodles of different types of pins available, but a basic pin pack that pierces fabric well and holds it in place will be enough to get you started. Pins with large heads are easier to grab and remove.
Measuring tape
A flexible, long measuring tape is way easier to use in most situations than a regular ruler, so a sewing craft kit should include one that is at least around 5 feet long.
Needles
A selection of quality hand sewing needles in different sizes and shapes will get you equipped for a wide range of sewing and craft projects.
Thimbles
Needles are sharp, prickly things, and if your fingers aren't used to pushing them through fabric it can begin to hurt after a little while. A solid metal thimble will protect your pinkies and enable you to sew in comfort.
Fasteners
A good kit will almost certainly include a few handy buttons, and often other fasteners such as snap fasteners or hook and eyes as well.
---
Have you used any of these sewing project kits before?