The Bernette B38 is the flagship model of the popular Bernette 30 series.
Unlike its predecessors, the B38 is a fully computerised machine that delivers many of the same features of the premium Bernina sewing machine line (made by the same company) – but at a cheaper price.
This is a versatile powerhouse, capable of handling all sorts of materials, stitches, speeds, and jobs.
Whether you are a long-time sewer looking to upgrade your equipment or a newcomer to the sewing realm, the Bernette 38 is an excellent machine with a lot to offer.
In our full Bernette 38 review, we take a look at how the machine compares to other models in the Bernette 30 series. We assess the full versatility of the machine, the types of projects it is good for, and a few tidbits we'd like to see improved in further releases.
Is this one of the best sewing machines for you?
Let's find out…
Bernette B38 Sewing Machine
The Bernette 38 is the top model in the Bernette 30 series. This computerised sewing machine offers a wide range of functions at an affordable price–leaving nothing to be desired. It offers 394 different stitches, including the stretch stitch for elastic fabrics.
Introducing the Bernette 38 Swiss Design
Who Is It For?
Bernette is known as the affordable "sister-brand" of the high-end Bernina sewing machine line.
There's a lot to love about the Bernina sewing line, but their machines are expensive. In some cases, eyewateringly expensive.
Bernette offers the same beautiful design and sturdy build, and a number of the same features, packed in to stripped-back machines that won't break the bank.
That's not to say they are cheap.
While the mechanical entrants to the Bernette 30 series, such as the B33 and B35 (reviewed here), can be picked up for under $300. This 38 model will set you back between $550 and $600.
And the reason for that is because the B38 is an electronic sewing machine – it is fully computerised and much more versatile than the previous incarnations in the series.
Not only is it an electric sewing machine, but it's a very very good one at that.
This machine is capable of handling just about any materials that you throw at it. It will sew on tough fabrics and extra thick garments, but it's just as capable carrying out delicate work too.
In operation, it is smooth, precise and surprisingly quiet.
The B38 will appeal to anybody looking for a multi-purpose sewing machine capable of making clothes, home decor or upholstery. It has a feature set that surpasses the 'entry-level' machines (from the likes of Singer), that are typically targeted at beginners.
This is a machine that will grow with your sewing capabilities – from beginner, to intermediate, to advanced.
The Look
The design team at Bernette clearly know what they are doing when it comes to aesthetics. A clean white exterior and a stark black underbelly offer a very modern look to this machine.
The interface and LED screen upon the front are not distracting or overly complex, and maintain a nice, pristine appearance that won't clutter your work area.
Overall, this is a professional-looking machine that will fit into any sewers workspace like a dream.
Specs
Weight: 21.7 pounds
Dimensions: 19.5 x 16.1 x 11.1 inches
Stitches: 394
Speed: Adjustable
Computerized/Mechanic: Computerized
Accessories
The Bernette comes with an impressive eight different presser feet to suit a variety of jobs.
You also get:
An extension table.
Four bobbins (one already set in the machine).
Several feet (zigzag, overlock, button-sew-on, open toe, buttonhole, satin stitch, and blind stitch).
An assortment of needles.
Two spool discs.
A second spool pin.
A screwdriver.
A lint brush.
A seam ripper.
A spool net.
A hard cover to protect the machine when not in use.
The Company Behind The Machine
Bernette is a part of the Bernina family, a business that has been in the industry for over 125 years and counting.
They have always aimed sky-high when it comes to quality and innovation, keeping their products on the cutting edge while maintaining affordable prices.
A quick browse through their website reveals a wealth of support and information about each and every sewing machine they have produced, placing a healthy emphasis on customer service and support.
If the Bernina range of sewing machines is out of your budget, the Bernette range is the next best thing.
Similar build quality and beautiful design, but at a much lower price point.
Features
Auto Thread Cutter
Look, we all hate having to stop working just to cut the thread and tie it off. It is a fiddly, annoying process that stalls the creative flow.
The fact that the Bernette 38 sewing machine comes with an auto thread cutter is a big bonus and a great one for those who have a lot of work to get done.
Ease of Use
Old hat at sewing or just trying the hat on for the first time, this computerized sewing machine is incredibly easy and intuitive to use.
The interface is simple, efficient, and you'll be experimenting with all of the many, many stitches you have to play with.
Getting started is super easy. Speaking of…
Excellent Manual
Most manuals get too bogged down in the details and over-complicate everything. This is not so with the instruction manual that comes with the Bernette, and thank God for that!
Plain-spoken instructions guide you through set-up, functions, and the odd trouble-shooting woes. This is a big plus for those new to modern sewing machines.
What Foot for What Stitch?
We really love this feature. Pick the stitch style that you want and the Bernette will tell you the correct sewing foot for the job.
This is a fantastic extra for newcomers to sewing, or for those who are looking to get back into the swing of things.
Extended Table
If you are in need of extra work-space for bigger jobs, then buying a sewing machine with an extendable table is a must.
This sewing machine is computerized (unlike the popular Bernette B33 and B35 models) and comes with an extra-large table that you can attach as needed – and it comes as standard, at no extra costs.
This is great to have when tackling quilts and dresses, and since its interchangeable, you can choose when it needs to be there, and put it away when you're working on smaller projects.
Aesthetic
We raved about the look of this machine earlier…and we'll do it again!
It is always nice to have a machine with a clean, modern look – doubly so when working on patterned material or complex stitch-work – and the Bernette is certainly a sewing machine that will sit well on any professionals work-station.
Adjustable Speed
Slowing down is a necessity for delicate work. With this sewing machine, you can adjust the Bernette's speed easily, and change out the presser feet to help, which is an enormous bonus.
Bernette 38 Sewing Machine Review
The Positives
Standard Accessories
Given all the goodies that come with the Bernette 38 Computerized Sewing Machine as standard (the presser feet, the sewing feet, and all the other treats), this machine is a good gateway into sewing as it provides everything that you need to get started.
Beginners who are just buying their first machine will benefit from not having the hassle of figuring out which accessories to buy on their own, cutting costs and confusion.
Versatility
The saying goes 'jack of all trades, master of none, but better than being the master of one', and it suits the Bernette well.
What this machine can achieve is incredible. From delicate silks to robust muslin, the Bernette can take it on, making it one of the best sewing machines for creatives.
Professional and casual sewers need dependable and durable machines that can handle a wide variety of jobs – especially those people that need their investment in a sewing machine to really pay off.
The versatility that the Bernette offers is a big bonus and one that we like to see.
Noise
To be frank, some sewing machines can make an awful racket. They get the job done, yes, but the noise can drive anyone up the wall!
If you have a young family or live with light-sleepers, a noisy machine is just going to create misery.
Thankfully, the Bernette is no such machine. Even going at top speed, noise remains minimal and ignorable. Throw on some tunes while working and the Bernette's noise is reduced to nothing.
This is a definite plus, no matter if you are working on the garment assembly floor of a business or in your own private workshop.
Accessible
This machine is so, so easy to use. No matter your experience levels with sewing machines, you can set the Bernette up in minutes and start work on your next great project before the hour is out.
A clear instruction manual and easy-to-use interface are two huge ticks in the pros column.
Again, great for learning and for beginners, or for those who want to retrace starter steps back into sewing. There will be less fumbling about and more time tackling projects.
Longevity
Not only does this machine perform extremely well, but it's also made with high-quality material assisting in helping your machine to last the years.
When making an investment, you want your product to last and it's evident that this company feels the same.
They've also included a 10-year warranty on the machine's casting and a 2-year warranty on electrical issues and labor.
This depends on where you purchase the Bernette 38 so be sure to check with your retailer to see if and how long you're covered.
Here's what the Bernette 38 looks like in operation…
The Negatives
It's Still Not Cheap
The Bernette is not a cheap machine and is an investment that one should carefully consider before buying.
As mentioned, it definitely makes up for the cost, proving to provide stress-free, quiet, and stable sewing for projects to come, but it can be deterring for those on a budget.
Bernette and Bernina have a long-standing reputation in the industry for creating top of the line machines at affordable prices, the Bernette 38 being a solid example.
This is the flagship model in the highly successful Bernette 30 series, and it's also the most expensive.
No Embroidery Functions
For all that the Bernette can do, it cannot do embroidery. While it masters a lot of sewing methods, you won't be able to venture into the world of embroidery with this one.
If you are looking for a machine that can expand into this craft, you will have to look somewhere else.
Portability
While this machine is sturdy, if you're looking for a lightweight, portable machine, this one may not be the best choice weighing in at 20 lbs.
For those of us who plan on constantly moving around with a machine, bringing it to class, or don't want to keep it in just one area, you'll probably find the Bernette 38 a little daunting to lug around.
While it's also not the heaviest, those who aren't used to lifting a lot of weight might find this annoying to carry.
Speaking of moving around, if you plan on jet-setting overseas with this machine, we should also point out that it's only made to be used with 110V making it hard (and maybe impossible) to use in continents and regions where the voltage is higher.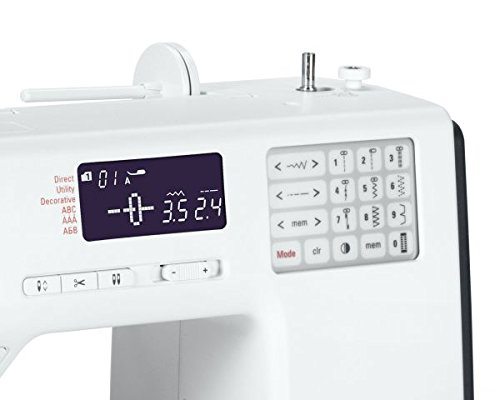 Overall Verdict on the Bernette B38
It's the diamond from an already very successful series of machines by Bernette.
The Bernette B38 is the highlight of the 30 series.
Despite a hefty price, the Bernette is a highly capable machine ready to tackle any job that your creative mind can think up.
It's a fantastic lifetime buy for new sewers who plan on expanding in the craft but don't want to frustrate themselves with a low-quality option during the learning curve.
For experienced sewers, it'll meet your demands – and you may be the type of buyer who can stomach the price tag more than others.
This, plus all sorts of standard goodies and an incredibly easy-to-use interface, makes the Bernette 38 a great investment that will stand the test of time.
Where to Buy the Bernette 38 Sewing Machine
Both Bernina and Bernette have produced quality machines that have only gained popularity in design and performance over the past decades.
It's not uncommon to find Bernette machines on the shelves of specialty and craft shops, and the Bernette 38 is no different, available both in-store and online.
To compare prices, check out the following online retailers.
eBay (available new or used)
And, of course, you can grab a great low price and fast delivery on Amazon:
Bernette B38 Sewing Machine
The Bernette 38 is the top model in the Bernette 30 series. This computerised sewing machine offers a wide range of functions at an affordable price–leaving nothing to be desired. It offers 394 different stitches, including the stretch stitch for elastic fabrics.
---
That's all for our review on the Bernette 38 Computerized Sewing Machine. Tempted to give it a 'sew'?
Not sure if this is the model for you? Browse our latest machine reviews.
Bernette 38 Review
User Experience

Sewing Specs

Ease of Use

Craft Sewing Specs

Price
SFH Verdict
The Bernette 38 Swiss Design Computerized Sewing Machine is a solid choice for both beginner and well-rounded sewers.
It's super easy to use, built to last, versatile and quiet making this an all-around quality machine.
While this machine suits almost everyone, those with tighter budgets, or looking to try embroidery should look into other options.