Looking for the best sewing machine bags? We've got you covered!
Do you like to sew on the go? Or do you need a convenient way to carry all of your sewing kit — including your machine — to sewing classes or groups?
Then what you need is a sewing machine bag (or a sewing case).
What is a Sewing Machine Bag?
Sewing machine bags are cases designed to store and carry not your sewing machine but safely hold and organize all of your other sewing equipment, books, and patterns out of the way in pockets and pouches while you're on the go.
Available in all kinds of different designs, most sewing machine bags are kitted out with wheels so you can roll them along with ease – much easier than trying to carry lots of heavy stuff!
Some have hard cases, while others feature colorful fabric designs.
Benefits of a Sewing Machine Bag
There are numerous benefits to this essential sewing accessory.
A sewing machine bag makes makes your sewing projects truly portable, and also provides a safe place to store and protect your precious sewing machine, guarding internal parts from dust and contaminants, and ensuring it is kept in top working order.
Bags for sewing machines also offer the chance to keep all your sewing kit neatly organized in one place, and ready to transport at the drop of a hat.
With so many designs to choose from, you can choose a sewing machine bag to suit your personal style – so you can stay chic even when travelling from place to place.
Features of the Best Sewing Machine Bags
Here's our list of the top features of the best sewing machine bags that you can't do without…
Durability
A sewing machine bag is a piece of kit that can serve you well for many years if it is well constructed and made from good quality materials
Space for sewing accessories
Spools, scissors, fabric, pins, patterns, and all the other essentials should be able to easily fit inside your sewing machine bag
Light and portable
Your sewing machine is already heavy enough – you don't want to add any additional unnecessary weight
Have casters to make transportation easier
While there are also tote style sewing machine bags available, a trolley style bag with wheels just makes life easier when you've got some walking to do.
Safe and protected
When travelling from place to place your sewing machine can suffer knocks and bumps, so your sewing machine bag need to be able to protect it. It should also protect your machine from moisture, dust and dirt.
Easy to clean
Whether is a fabric design that can be tossed in the washing machine or a hard plastic case that can be wiped down, the best sewing machine bags are easy to keep clean.
Cost Guide
As well as existing in a huge range of styles and colors, sewing machine bags also come in a range of prices — from as little as $20 to as much as $200 or more.
Cheaper bags are pretty basic and usually only serve to cover your machine, whereas most mid-range sewing machine bags are durable and have some good features as well as more room for accessories.
If you do a lot of travel with your sewing machine, you may want to consider splashing on a top of the range model.
The Best Sewing Machine Cases & Bags

Made from cute yet robust cheetah print quilted polyester, this rolling sewing machine bag by Everything Mary is both stylish and practical.
The zippered and padded central compartment is large enough to fit most sizes of Singer and Brother sewing machine, and can be accessed either from the top or the side.
Velcro straps hold the sewing machine in place. Front and side external pockets provide additional storage space, and inside there are transparent plastic pouches for keeping smaller items of sewing kit safe and easily accessible.
Two rollers on the base and a telescopic handle allow make this sewing machine tote truly portable.
Pros
Attractive design
10 pockets provide plenty of storage
Lightweight
Sturdy and durable
Keeps sewing machine securely in place
Very portable
Comes with 100% money back guarantee
Cons
Wheels are not multi-directional
Telescopic handle could be longer for taller people
The Embroidex floral sewing machine carrying case is made using pretty purple and green floral heavy duty fabric and stitching as well as premium quality zippers.
Two sturdy ergonomic cushioned straps mean you can carry this sewing machine bag comfortably even when full.
The front of the bag features a roomy pocket for storing accessories.
Most regular makes and model of sewing machine will fit in the Embroidex sewing machine carry case.
Pros
Well made from quality materials
Great value for money
Looks stylish
Pocket is a good size
100% satisfaction guarantee
Very sturdy
Lightweight and portable
Cons
We would prefer more protective padding on the inside
Designed to fit most sewing machine models, the main compartment of the Kenley Sewing Machine Tote Bag measures 18" x 10" x 13" and features internal padding to protect your machine and can be fully unzipped for easy access.
The two handles are also padded for maximum comfort, and there is also a removable padded shoulder strap which can be adjusted to suit you.
A generously sized pocket on the front of the bag is ideal for storing all your sewing notions, and 4 plastic feet protect the base.
Made from a durable heavyweight fabric, this sewing machine bag comes in a choice of 2 colors — blue floral or black.
Pros
Shoulder strap is good for hands free carrying
Great protective padding
Well made
Sturdy and durable
Lots of space for the price
Easy to carry
Cons
Has no support in the base
Protective padding could be thicker
This robust nylon sewing machine bag has a whole ton of great features including a big front pocket with internal mini pockets of different sizes for organizing your sewing accessories, 2 additional mesh side pockets, zippered pockets in the top, and a wide back pocket perfect for patterns and booklets.
The main compartment is well padded and measures 16.5 x 12 x 7.5 inches to fit most standard sewing machines.
For portability, the Luxja sewing machine carrying bag has 2 padded handles and an adjustable, removable shoulder strap. It's available in an eye-popping purple or sleek black.
Pros
Lots of storage space
Excellent for keeping sewing accessories organized
Well cushioned for protection
Sturdy design
Easy to carry
Lightweight and compact
Cons
Doesn't have wheels
Internal organizer pockets could be larger
Well known brand Singer don't just make great sewing machines — they make great sewing machine bags too!
The classic design of the Singer sewing machine tote is made from tough black nylon with layers of padding for protecting your machine.
At 18" x 10" x 13" this bag can comfortably fit most standard size sewing machines, which can be effortlessly lifted in and out thanks to the full zip which allows the bag to be opened fully.
There is a good sized front pocket for additional storage, and there are two padded carrying handles.
Four plastic feet on the base add extra protection from scuffs and scratches.
Pros
Solid design
Convenient large storage pocket for accessories
Very easy to get your machine in and out
Lightweight
Roomy
Good quality zippers
Cons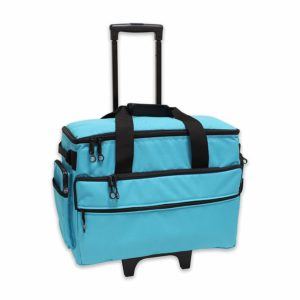 Available in an eye-catching range of bright colors, the BlueFig TB19 sewing machine trolley has a sturdy metal frame construction and rugged ball bearing wheels which make traveling with your sewing machine a breeze.
With dimensions of 19.25 x 14 x 9.5 inches, this sewing machine bag is designed to accommodate most standard sewing machines.
It's made from tough polyester material and features multiple interior and exterior pockets for additional storage, two strong carrying handles, and a telescopic handle for pulling it along.
A stabilizer strap inside the main padded compartment makes sure your machines stays right where it should during transportation.
Pros
Spacious design
Great range of colors to suit personal style
Excellent storage space for sewing accessories
Can be pulled or carried
Sturdy and well made
Easy to use
Wheels roll well
Cons
Could do with extra support around the sewing machine
Quality could be better for the price
The sewing machine experts at Janome know just what is needed in a good sewing machine bag.
Their universal sewing machine tote is compatible with most brands of sewing machine, is lightweight, and made from tough canvas.
There are 9 bold and colorful designs to choose from, and there is a practical front pocket as well as 2 padded carrying handles.
The inside of the main compartment is lightly padded to protect your sewing machine from bumps and knocks.
Pros
Very pretty designs to choose from
Super lightweight
Strong construction
Spacious
Easy to store when not in use
Pocket is a useful size
Cons
We would like thicker protective padding
No rigid support in the base
If you're a serious sewist who does a lot of traveling you'll love the Luova 3 piece rolling sewing machine trolley set.
3 different bags make up the set, and can be easily stacked on top of each other for transport.
There's a special bag for the sewing machine with a stabilizing machine strap, internal zippered storage pockets, as well as a handy front pocket.
The additional 2 bags can be used to hold a huge quantity of sewing supplies, or even other luggage items such as clothes.
The trolley is constructed with a strong metal frame with ball bearing wheels and a collapsible handle with a comfortable grip.
The 3 bags are made from fully padded, hardy 600d Poly material and heavy duty zippers.
Pros
Very versatile – bags can be used together or apart
Available in a choice of colors
Good quality and well made
Excellent storage capacity
Extremely easy to move about
Tough and durable
Convenient
Cons
We'd ideally like more or thicker padding
This super large rolling tote from Crop In Style is bursting with clever storage for sewing and crafting accessories, including multiple compartments with clear pockets for enhanced visibility, scissor loops and a special spool holder.
The main compartment features interior dividers which can be adjusted or remove as you please, and is just the right size to hold most sewing machines.
Ball bearing wheels and a telescopic adjustable height handle ensure easy movement.
This sewing machine bag is made from strong nylon fabric and quality zippers.
Pros
Clever storage space
Versatile – can be used for sewing, crafting, or scrapbooking
Very durable
Wheels roll well
Huge size
Cons
Expensive
Could be more stable when being pulled along
---
Which do you think is the best sewing machine bag?