When it comes to sewing through denim fabric, there are a lot of sewing machines on the market that claim they can handle anything. But those same models don't always produce consistent results and some even end up ruining your clothes…
Super tough and practical denim can stand up to the roughest treatment — but this can also make it a challenge to sew.
Luckily, there are some great heavy-duty sewing machines that can handle those tough fabrics. There's no reason why your clothes should come apart at the seams just because they're made from denim or jean material.
We've compiled this list of the best sewing machines for denim and jeans, as well as an overview of the most important features to look out for.
Here's a quick review of our favourite options:



Verdict
Powerful motor means this machine can work with upholstery, denim, or even leather. At a superb price.
Great on heavyweight fabrics and multiple layers, plus easy to use and ideal for all experience levels.
One of the best heavy duty sewing machines on the market right now. Can it work with denim and jeans? You betcha!

Verdict
Powerful motor means this machine can work with upholstery, denim, or even leather. At a superb price.

Verdict
Great on heavyweight fabrics and multiple layers, plus easy to use and ideal for all experience levels.

Verdict
One of the best heavy duty sewing machines on the market right now. Can it work with denim and jeans? You betcha!
Let's get in to some detail!
6 Best Sewing Machines For Denim and Jeans
Looking for a machine with denim and jeans stitching capabilities?
While a lot of machines claim to work with tough fabrics, the results can vary significantly.
Below we've reviewed five excellent durable machines for working with denim.
Brother ST371HD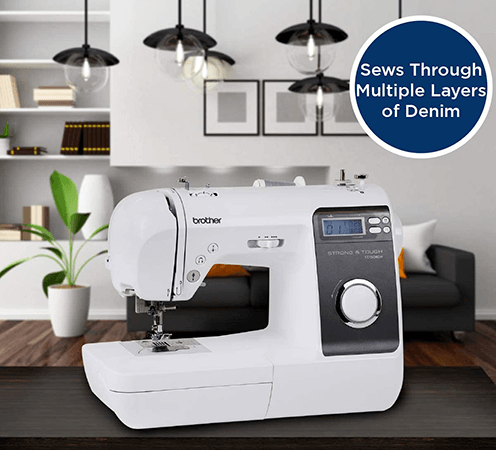 Specially designed to handle heavyweight fabrics including jeans, the Brother ST371HD is an impressive entry-level heavy duty sewing machine.
Even with several layers of thick denim the stitch quality is remarkable — this machine represents true value for money.
It comes with a set of heavyweight needles — including a #16 — that are perfect for sewing denim and a zigzag presser foot with spring action, which is ideal for sewing thick seams.
It also features a choice of 37 stitches, automatic needle threading, high pressure foot lift and a convenient quick-set drop-in bobbin system to reduce the risk of problematic jams. It's perfect for beginner sewers and the more experienced among us.
>>> Read full review of the Brother ST371HD Strong and Tough
Pros
Suitable for beginners and the more experienced
Very user friendly with a built-in needle threader and jam-resistant quick-set drop-in top bobbin
Reliable and durable
Mechanical machine means less costly repairs
Powerful motor
37 built-in stitches
Comes with 6 quick-change sewing feet
Bright work area
Free arm for sewing sleeves
Tension control
Adjustable stitch length and width
Low cost
Cons
There's no speed control
It's not computerized
No up/down button for positioning the needle
Brother Project Runway CS5055PRW
We're back with Brother again for this sewing machine designed especially for clothes makers, in collaboration with the highly popular Project Runway TV show.
Denim glides through this machine thanks to the advanced feed dog system, and the motors have enough power to keep stitches neat even when working with thicker fabrics like denim at faster speeds.
Stitch length and width is variable so you can adjust easily to achieve the best results.
There are a whopping 50 types of stitch to choose from, and it also includes automatic needle threader, top loading bobbin and a vertical spool pin to keep thread feeding through efficiently and minimize tension troubles.
Considering its wide array of features, we think it's incredibly reasonably priced.
Pros
Lightweight and easy to carry
Good choice for novice sewers and clothes makers
Huge range of stitches — including utility, decorative and heirloom, and 5 1-step buttonholes
Runs quietly with minimum vibration at higher speeds
Vertical spool pin for smooth and consistent feed
Solidly made
Reasonably priced
One step bobbin replacement with quick-set drop-in bobbin
Automatic needle threader
LCD display screen
Cons
A little limited for more advanced sewers
LED light could be brighter in the work area
Singer 4423 Heavy Duty Sewing Machine
Unquestionably, one of the best sewing machine for jeans is the Singer 4423 Heavy Duty — in fact, it's one of the most popular sewing machines available on the market right now.
Its primary appeal is it's incredibly fast speed — up to 1,100 stitches per minute — but it also more than holds its own against heavy fabrics like denim.
The metal frame of the Singer 4423 makes it strong enough to handle tough denim and the weight prevents the machine bouncing around at high sewing speeds, keeping it stable and your stitches even. The 60% stronger motor doesn't do any harm either.
It features an extra high presser foot lifter, so no matter how thick your material is you won't have any problem sewing layers. Foot pressure is automatic, as is the needle threader.
We also can't complain about that ultra reasonable price!
Pros
Good budget option
High speeds of up to 1,100 stitches per minute
Very stable and durable
User-friendly
60% more powerful motor can handle tough materials
23 built in stitches including 1 buttonhole
Stainless steel bed plate for smooth feeding
Heavy duty metal interior frame
Automatic needle threader
Top drop-in bobbin
Extra high presser foot lifter
Adjustable presser foot pressure control
Adjustable stitch length
Cons
It can be tricky hitting on the correct thread tension
Runs quite loudly
Stitch range is limited
Janome HD3000
The Janome HD3000 is a beast of a sewing machine, capable of working with just about any fabric you decide to throw at it – and yes, a pair of jeans is going to be no problem whatsoever.
It's what you might call a "workhorse" machine.
It doesn't look particularly flash, and there are no bells and whistles. But what you get is a supremely reliable heavy duty machine that can handle up to 6 thick layers of fabric at a time. That's more than good enough for what we're looking for in a machine to work with denim.
Pros
Powerful machine
Works well with huge array of materials
Fairly simple for beginners
16 stitches
Free arm
Extra high presser foot lift
Comes with a useful hard cover
Reliable and built to last
Cons
Pricier than other models in this list
Care required when transitioning between materials of different thickness
Not the prettiest of machines
Janome 7330 Magnolia
The Janome 7330 Magnolia is a high tech and sturdy machine, that's suitable for everyone from inexperienced sewers to professionals.
The double lift presser foot can be lifted high enough to pass bulky items with ease and it's powerful enough to punch through multiple layers of denim fabric.
The superior 7-piece feed dog system pushes fabric through with the minimum of friction and the stop/start feature with variable speed control slider means you have maximum control while you sew.
It also comes with a ton of user friendly features such as jam proof bobbin system, automatic needle threader, top loading bobbin with see-through cover and automatic thread tensioning. Perfect for beginners and those needing something that just works.
It remains one of the most popular sewing machines for working on jeans.
Pros
Suitable for inexperienced sewers up to professionals
Sturdy and durable build quality
30 built-in stitches plus 6 1-step buttonholes (great for clothes makers!)
Backlit LED screen
Automatic needle threader
Free arm
Extra high presser foot lift
Variable stitch length
Auto declutch bobbin winder
Speed control slider
Easy snap-on presser feet
Runs quietly
Cons
Only a minimal choice of embroidery stitches
No carrying case
TOYOTA Super Jeans J17 Sewing Machine
Toyota's reputation in the car industry for quality and innovation is well known, and they've carried this over into the sewing world now too with the J34 Super Jeans machine.
This unique machine has been specially designed to sew denim fabrics. Not only is it exceptionally powerful, but it also produces accurate and even sewing.
The gliding presser foot pressure can be finely honed using a dial to get it exactly right to effortlessly slide over layered denim fabric – it will even adjust to varying thicknesses.
It's also built for ease of use: this mechanical machine comes equipped with automatic needle threading function, 34 built-in stitches, a wide sewing area, convertible free arm, and drop feed system.
Pros
Very powerful
The embroidery stitches work excellently on denim
Easy to use
Sews multiple layers of thick fabric
Lightweight
Automatic needle threader
Convertible free arm
Comes with a host of accessories, including a gliding foot
Presser foot pressure can be adjusted with a dial
Cons
Can be noisy
Although it's ideal for denim, some users have found it can pucker a little when used on thinner fabrics
Difficult to find in stock
---
What Is Denim?
Although we think of denim as a much sturdier fabric than cotton, it's actually made entirely from cotton. The reason why it's so thick and strong is because of the way it's been weaved together.
A weft thread passes beneath at least 2 warped cotton threads, producing the typical diagonal ribbing we see in denim fabric.
When it comes to clothing, denim is most commonly found in jeans, skirts, shirts, overalls and dresses (although it's been known to crop up in other uses too!).
The word 'jeans' actually comes from the city of Genoa in Italy, where jeans were first manufactured.
What Makes A Sewing Machine Good for Jeans?
Now that we've had a little history lesson, let's get down to it: what makes a sewing machine well suited to denim?
When it comes to knowing what sewing machine is good for denim, we have to consider the features which will work most effectively with the fabric to give the best results. The right sewing machine will step up to the challenge and get the job done without compromising the quality of the finished item.
If you plan on sewing a lot of denim you will need a durable heavy duty machine.
Heavy duty sewing machines have stronger construction and more 'oomph' than many beginner or more basic designs, and can easily handle tougher, thicker fabrics like denim – meaning you can sew various different styles of jeans.
As long as a sewing machine is powerful and sturdy enough, it should be adequate for the task providing it includes some of the following features:
Dedicated Denim Needle
These needles are specially designed to penetrate tightly woven fabrics like denim, and are much sharper and thicker than a standard needle. The eye of the needle is very slim on a denim needle.
You may need to lubricate the needle to help it punch through the thick fabric and should change the needle regularly as it will naturally dull with use over time.
Some sewing machines will come ready equipped with a dedicated denim needle, but you will need to purchase them separately if the machine is not kitted out.
Presser Foot
The presser foot you use will be very important when you're sewing jeans as it can be very tricky to feed the thick denim smoothly through a machine.
Some sewing machines come equipped with their very own jeans presser foot — Bernina, for instance — but otherwise a walking foot should do you just fine.
This will prevent the fabric from stretching and slipping around as you attempt to sew it.
High Presser Foot Lifter
As such a heavy fabric, you'll want to be using both your hands to guide your denim during the sewing process.
So you don't have to waste your hands lifting the presser foot, you should buy a machine with a high presser foot lifter to do this hard work for you.
This way you'll have plenty of extra clearance for sewing multiple layers of denim and will still be able to control the fabric with your hands.
Powerful Motor and Metal Frame
The best sewing machine for jeans will be equipped with a metal interior frame and — most importantly — a strong motor.
A strong motor will ensure that your machine can always force the needle through your denim without accidentally breaking or chewing up the fabric. It will also mean your machine can take on multiple layers of thick fabrics without giving up the ghost.
A metal interior frame — as opposed to plastic — lends even more support and gives the machine a longer lifespan, despite the fact that it's working harder than normal.
Metal (as opposed to plastic) inner workings and a strong motor are required to force the needle through jeans without it breaking or chewing up the fabric. Metal parts mean the machine will have a long lifespan even though it's working hard.
Stitch Length Variation
Longer length stitches are best for denim, as shorter stitches may result in snapped threads or broken needles with this bulky fabric.
When your sewing machine has an option for variable stitch length, you'll be able to choose the optimal stitch for the fabric. On the best sewing machine for denim, you'll be able to use a dial to select stitch length easier than ever before.
Zig Zag Stitch Option
Anyone who's tried to sew denim before will be well aware of how easily this fabric frays if you're not careful.
As such, taking the time and effort to stitch sturdy seams is an absolute must. Make sure that your sewing machine has a zig zag stitch available for the job.
Our list above has some great machines to get you started!
So that's our pick for the best sewing machines for denim and jeans! You can find more of our recommendations of top rated sewing gear here.
Let us know your favorites!