Quilting machines are specialist pieces of kit that are used to create high-quality, professional-looking quilts.
Many quilters start out with a standard sewing machine that has no problem sewing through several layers of material. Unfortunately, the average home sewing machine may have problems feeding thick fabrics and batting evenly under the foot. The best quilting machines can be expensive but – quite simply – they offer you the best solution to producing quality quilts.
If you're looking for a machine that can handle thick fabrics and batting, then a quilting machine is the answer. Quilting machines are built specifically for sewing through multiple layers of fabric, meaning they can produce evenly stitched quilts with ease. Our top recommendation, the Juki TL-2010Q, provides all the tools for free motion quilting, and some of the most even stitching we've seen from any home quilting machine.
In this guide, we'll compare six of the best sewing machines for quilting. Whether you're still a beginner, or a seasoned professional – these machines will help you take your quilting game to the next level.
Here's a quick preview of our 3 top rated quilting machines:



Good For?
Fast and powerful, works like an industrial machine with a perfect straight stitch.
It can sew any fabric like a dream and the huge throat space allows you plenty of room to work on.
An exceptional high-end machine - filled with accessories and settings to satisfy all the needs of intermediate to advanced quilters.

Good For?
Fast and powerful, works like an industrial machine with a perfect straight stitch.

Good For?
It can sew any fabric like a dream and the huge throat space allows you plenty of room to work on.

Good For?
An exceptional high-end machine - filled with accessories and settings to satisfy all the needs of intermediate to advanced quilters.
Let's find out more…
What Are The Best Quilting Machines?
If you want to invest in a quilting machine that will stand the test of time and deliver even stitching for your next quilt project, here are the top machines to consider:
Starting with an extremely popular Juki model…
Juki TL-2010Q
The Juki TL-2010Q delivers professional quality results thanks to its superior components and high quality build.
Constructed with a robust aluminum frame this quilting machine is made to last, and comes equipped with extra high presser foot lift, a large extended workspace, adjustable pressure foot control with knee lift lever, manual thread tension control and adjustable stitch length.
The variable stitching speed reaches a maximum of 1500 stitches per minute, and is controlled with a simple to use sliding control. This adjustable speed is one of the TL-2010Q's advantages over the Juki TL-2000Qi, which simply speeds along at 1500 spm.
This long arm quilting machine has a side loading bobbin with an automatic needle threader, and it comes with two different quilting feet supplied.
Pros
Easy to set up and use
Excellent straight stitch quality
Ideal for free motion sewing
Strong, high quality construction
Can sew through even the thickest fabrics and multiple layer
Adjustable settings
Large work space
Cons
Expensive machine
Some sewists find the automatic needle threader a little difficult to use
JUKI TL-2000Qi Quilting Machine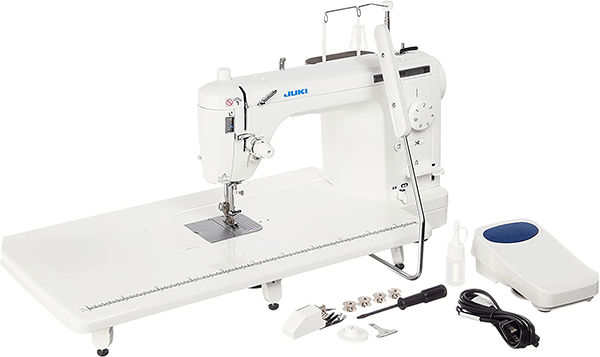 This top of the range quilting machine has all the important features you need to create quality quilts and is one of our number one picks.
The fast and powerful Juki TL-2000Qi works like an industrial machine, with a large, extendable work table, and long arm system to provide plenty of space to sew.
With a fast maximum sewing speed of 1500 stitches per minute, this quilting machine produces a perfect straight stitch, and comes with a choice of adjustable presser feet including a dedicated quilting foot and free motion foot.
Automatic needle threading, a top loading bobbin, and automatic thread cutter all make this machine easy to use, as well as the knee lever which allows you to raise or lower the presser foot without using your hands.
Although this quilting machine is heavier than a regular home sewing machine, it still remains portable thanks to its aluminum frame.
Pros
Quality, durable quilting machine
Sews through multiple layers easily
Fast, steady sewing speed
Plenty of work space
Brightly lit work space
Excellent value for money
True drop feed
Excellent stitch quality
Minimal vibration
Cons
Only one straight stitch — serious quilters only!
Brother PQ1500SL High Speed Quilting Machine
The automatic thread trimmer, knee lever and automatic needle positioner on the Brother PQ1500SL are just some of the features that make this one of the best sewing machines for quilting.
This is a fast machine with a maximum speed of 1500 stitches per minute, and the long arm and large table with extension give a huge amount of workspace.
The stitch tension can be easily adjusted with a dial, and the adjustable feed dog height is ideal for free motion stitching and can accommodate even the thickest of quilts.
There are also a wide variety of accessories provided, including seven different feet for all your quilting needs.
Pros
Very easy to use — great for beginner quilters (and beyond!)
Easy machine to maintain
Huge workspace
Runs smoothly and quietly
Lots of accessories
Fast and powerful with adjustable speed
Very durable
Good value for money
Cons
Only comes with straight stitch
Automatic threading and thread cutter take a few tries to get used to
Brother XR3774 Quilting Machine
While not a dedicated quilting machine, the Brother XR3774 is nevertheless a solid contender when it comes to basic quilting projects.
It's also very low priced compared to many of the other machines on this list, and has the benefit of offering a full suite of 'normal' sewing stitches and features too. All in all, a great all-round machine.
The extended table is ideal for quilting, and it comes equipped with a dedicated quilting foot and a quilting guide for handling most basic quilting projects.
In addition, it can be used for many other sewing projects thanks to the range of 37 different stitches available, as well as a choice of presser feet. It also features an automatic needle threader, button hole maker and jam resistant bobbin to prevent your thread tangling up and snapping.
Pros
Excellent quilting machine for beginners
Easy to use
Can be used for other sewing projects
Very affordable
Lightweight and portable
Built in free arm
Cons
Only suitable for more smaller, more basic quilting projects
Not many adjustable features
Juki HZL-F600 Computerized Quilting Machine
More than just a straight stitch machine, the Juki HZL-F600 Computerized Quilting Machine has an impressive range of over 200 different built in stitch patterns.
This professional standard quilting machine has a top stitch speed of 900 stitches per minute, and features a large, wide work surface, knee lift lever for hands free presser foot lifting, automatic thread trimmer with foot pedal control, pressure foot pressure control, automatic bobbin winder and needle threader.
This machine can handle any fabric, from the lightest of silks to thick wadding and leather.
The computerized stitch selection is fully customizable too, and it's possible to save up to 70 different personalized stitch patterns, plus there are eleven different presser feet supplied, including a quilting and walking foot.
Pros
Solidly built
Very versatile
Easy to use stitch selection
Huge variety of stitches
Good sized work surface
Great automatic features
Large and well-lit work space
Can easily sew most fabrics
Cons
Not suitable for beginners
Brother Designio Series DZ2400
The Brother Designio Series DZ2400 has all the benefits of a regular sewing machine with the addition of some special adaptations for quilting.
The extra wide table provides an enlarged work space, and there is a dedicated quilting foot and a walking foot, as well as a set of quilting stitches amongst the 185 built-in stitching patterns.
This is a well made machine, with advanced needle thread function, adjustable sewing speed with sliding control, jam resistant drop in bobbin, adjustable pressure foot, smooth-feeding seven-point feed dog fabric feeding system, and LCD screen with easy stitch selection.
A reliable quilting machine that's available for an excellent price and comes with plenty of extra features? What's not to love!
Pros
Intuitive and simple to use
Strongly built
Lightweight and portable
Lots of features and accessories
Excellent for quilting but also a great all-round sewing machine
Affordable price
Cons
Beginners may find this machine a little tricky to get used to
No automatic thread cutter
What is a Quilting Machine?
Quilting is the art of creating heirloom quality quilts by sewing together pieces of fabric to create a beautiful patchwork design.
It involves sewing multiple layers of fabric and wadding together to create a warm and attractive quilt that can last for generations.
Taking on such a big project demands a lot of space, time and patience.
Quilting machines take a lot of the hard work out of the task — no need for painstaking hand sewing or using a normal sewing machine which isn't up to the job.
A quality quilting machine is specially adapted for punching through the backing, top and wadding layers of a quilt, and has exactly the right set of stitch options you need to create a well-made, beautiful and hard wearing quilt.
The best sewing machines for quilting come from well established brands that include Singer, Brother, Juki, Husqvarna, Janome and Bernina, amongst others.
Coming up is all you need to know about how quilting machines work, and how they differ from a regular sewing machine…
Distinct Features of a Quilting Machine
There are many features that set a quilting machine apart from an ordinary sewing machine.
Firstly, they are much wider with a longer arm to allow for extra space as you sew to accommodate the large volume of material that makes up a quilt.
In addition, the thread tension is specially adapted to cope with all that thick wadding and fabric without bunching up your thread or breaking your needles.
The best sewing machine for quilting will also come equipped with customizable stitch options that allow you to easily change between stitches on the go and get creative with the finish of stitch that you want.
These advanced machines also feature feet for free motion quilting to enable you to easily add quilting stitches in any direction on the surface of the quilt in order to add creative flourishes or just to enjoy better freedom of movement.
Ease of use is another very important factor when it comes to a quilting machine.
Look out for features like a top loading bobbin, which is easy to load, a fully automatic needle threader, and an up-down position switch, which means that you can lower or raise the needle at any time when you need it most without disturbing the thread tension.
A strong straight stitch is essential when it comes to quilting, so the best quilting machines have an emphasis on this, as well as having a powerful motor and being made from sturdy, quality parts which will last a long time.
In our list above, we've picked our favorite quilting machines that are more than up to the job.
These machines are typically quite expensive – upwards of $600 – but they are much more effective for quilting than an ordinary sewing machine.
---
Which is your favorite quilting machine?