The Brother SQ9185 130 Stitch Sewing and Quilting Machine comes with quite a long list of promises: it's a sewing machine, a quilting machine, has 130-stitch options as well as a monogram font. All for an extremely affordable price tag.
Are you skeptical yet?
Don't worry—we were, too. So we went ahead and investigated whether the promise of the SQ9185 checks out, or whether it is, in fact, too good to be true.
Is this one of the best machines on the market today?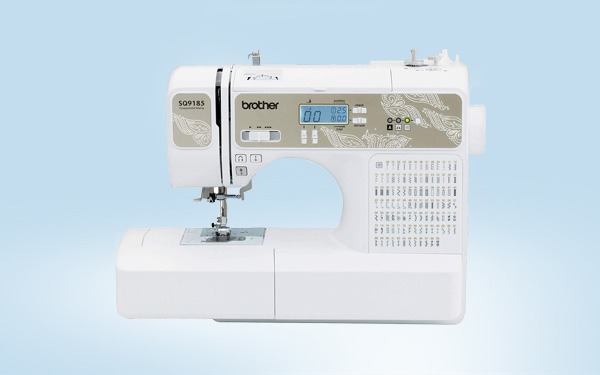 Curious to know what we found?
Have a look:
Brother SQ9185 Machine: The Details
The Look
Before we go into Brother SQ9185's skill set, let's take a moment to get this out of the way: this machine is a beaut.
It comes with all 130 stitch-options printed on its arm and a monogramming legend on the inside of the top cover, plus a display screen settled in the middle of a lacy design.
It's surprisingly light for a quilting machine weighing in at 9.9lbs, though certainly not the lightest one out there.
What's certain is this: there's no unpacking all this without feeling your fingers itching to get started.
Specs
Weight: 9.9 lbs (though it ships at 16.1 lbs.)
Dimensions: 20 x 16 x 13"
Stitches: A 130 built-in stitches, plus 8 styles of 1-stop buttonhole stitches.
Speed: Variable speed controls, with a maximum of 850 stitches per minute.
Computerized/Mechanic: Computerized
Bobbin: A drop-in bobbin system.
Warranty: 25-year limited warranty.
Accessories
Brother's SQ9185 Sewing and Quilting machine comes with its own array of accessories, easily stored in a built-in accessory drawer.
The package that arrives at your door also comes complete with an accessory bag, which altogether makes for the following Christmas-morning-stocking of a collection:
A needle set including a twin needle and a ballpoint needle.
A seam ripper.
A cleaning brush.
A little screwdriver.
An extra spool pin.
A few bobbins (4).
A bobbin clip.
An eyelet punch.
An instructional DVD.
An operation manual.
A quilting guide.
And last, but not least, a total of 10 snap-on presser feet for every sewing challenge you might face – from buttonhole to monogramming to ¼" quilting.
Brother Industries: The Company
Brother Industries (stationed in Nagoya, Japan) has made a fair name for itself in the sewing world.
It's impressive, considering the variety of other electronic products it brings to the market including printers, PCs, domestic appliances, you name it.
To have such a wide playing field and still be able to excel in the production of one product certainly speaks of the company's drive for quality.
After all, the company did start as a small-scale sewing machine company all the way back in 1908, and sewing has remained at its core all these years.
In 2010, Brother's sewing and quilting machine production became its 4th largest grossing sub-division.
Just last month, Brother manufactured its 60th millionth home sewing machine. And that, dear friends, is a lot of sewing machines.
The Warranty
Brother's SQ9185, 130-Stitch Sewing and Quilting machine comes with a standard limited 25-year warranty.
Periodic maintenance repair is not covered under this warranty, and neither are some of the accessories (bobbins, needles, etc).
It does cover labor repair in the first year, which may come in handy in case the circuit board gives you trouble.
Features
130 Built-in Stitches, Including Eight Styles of One-stop Auto-Size Buttonholes
With a whopping 130 stitch-options, the Brother SQ9185 isn't in need of any extras.
This massive selection means you can use a different one each day and it'll still take you two whole seasons to get through them all.
Moreover, the machine also comes with eight (8) one-stop buttonhole stitches, plus 55 alphanumeric stitches—perfect for those wanting to get into monogramming.
Large Backlit LCD Display
The Brother SQ9185 has a good LCD display on it for stitch selection, positioning, and all your monogramming projects.
It's nice and bright, making it easy to read even in low-light environments, and is generally well designed with icons to indicate selection.
Variable Speed Control and Start/Stop Button
Go as fast or as slow as you want with the Brother SQ9185 130 Stitch Sewing and Quilting Machine.
Especially when quilting, having a good sense of control over the machine's speed can be essential—and the Brother SQ9185 allows you to go at it with all the control you need.
Whether it's a slow-paced stitch pattern or an 850 stitch-per minute race, you get to set the tone.
Stopping is quick, allowing users to efficiently fix an error before its too late while the 'Start' feature gives users enough time to line up your project before sewing.
Wide Table Included
Another bit of ingenuity: the Brother SQ9185 comes with an attachable wide table.
This additional table space gives the Brother quilting machine a 33% larger workspace than previous models.
This great addition is designed to make big-scale quilting (which, let's be honest, isn't an easy task to begin with), or bigger projects like gowns, as easy as can be.
One Sewing Font with 55 Alphanumeric Sewing Stitches for Basic Monogramming
If you've been dying to try your hand at monogramming but haven't wanted to invest in high-end, complicated quilting machines, the Brother SQ9185 is perfect to test out your skills.
It has one basic font that allows you to learn the mechanics and practice to your heart's delight.
What else does the Brother SQ9185 Sewing and Quilting Machine have to offer?
An easy bobbin winding system
A needle-position button
An LED light for darker nights
A smooth, 7-point feed-dog system
Brother SQ9185 Sewing Machine Review
The Positives
Big Options for a Little Price
The Brother SQ9185 sewing machine is chock-full of features.
It's a sewing and a quilting machine, with 130 stitch options, and manages to remain accessible all the same.
Keeping that in mind, this machine is surprisingly affordable: offering a whole lot for, well, not a whole lot.
Makes It Easy To Go Big
By marketing itself as both a sewing and a quilting machine, it feels like the Brother SQ9185 must've compromised to make both options easier. Somehow it's managed to keep the best of both worlds.
Accessories like the attachable table and the various attachable presser-feet make it easy to go big when needed, but also return to level-entry sewing when desired.
With all of its features, it can be intimidating to use. Thankfully, the setup is simple and easy for starter sewers but also makes it easier for advanced sewers to transition to.
Makes It Easy On the Small Things
Though not to undersell the finer details; the Brother SQ9185 makes the little things all the easier to use too!
The automatic bobbin winding system, for example, makes sure that you don't have to pause your creative process to spool by hand.
This Brother sewing machine comes with speed control buttons but also a foot pedal which isn't necessarily needed, but great for those who really want to control the speed of their sewing.
The easy threading system lets you get back in the game within seconds. And the little light, little as it may be, is LED powered keeping you sewing for longer – even in the middle of the night.
Noise Is Not An Issue
The Brother SQ 9185 Sewing and Quilting Machine makes for a smooth sewing experience.
Nearby family members won't be bothered by loud noises when pulling an all nighter with this machine as it runs quietly enough to make for peaceful projects.
Knows What An Advanced User Needs
This, perhaps, is what we like best about the SQ9185; it knows what a slightly more advanced sewer needs in order to grow.
It knows what direction to guide them toward, and offers all the aid it can in order to make that process as smooth as possible.
Once novice users master the art, the Brother SQ9185 makes it easy to level up to other tasks like patchwork or quilting.
It comes with a quilting guide, an operational guide, and easy to follow DVD instructions; all accessible when you need it.
The Negatives
Not for Beginners
This ties straight into our last point: a great machine for a more advanced user, but possibly a complete mystery to early beginners.
The options can be overwhelming and it's not always intuitively clear how to operate the machine for sewing alone, or to know what's easier for quilting.
The guide helps, of course, but even for that, some basic knowledge is needed to make the Brother SQ9185 do what it does best.
Though once you take the time to really become accustomed to your Brother sewing machine, by reading the guides, and taking the time to become familiar with its functions, it has potential to become a breeze to use.
Too Much of a Good Thing?
We've noticed that the one thing that doesn't always serve the Brother SQ9185 very well is its many accessories.
Granted, you'll rarely hear us complain about 'too many' accessories. But when you're still getting the hang of this machine, it can be tricky to figure out which foot goes with which stitching or which needle position goes with which foot.
This can, at times, result in general frustration, the machine making disgruntled noises, and possibly one or two extra coffee breaks where you try to figure out what in heaven's name you did wrong.
Below is an in-depth unboxing of the Brother SQ9185 including all of its many features and accessories:
Overall Verdict
The Brother SQ9185 130-Stitch Sewing and Quilting Machine is a thing of wonder: full of features, comes with a whole array of accessories, and runs beautifully – especially when you've mastered all of its controls.
However, this is not entirely an entry-level machine, requiring focus and attention.
When used correctly, it has quite the creative potential and will easily inspire basic sewers to try new techniques, patterns, and designs.
Are you bored of basic stitching and are looking for a machine to help you level up? The Brother SQ1985 will certainly help you along the way.
At such an affordable price point, it's easy to switch to the Brother sewing and quilting machine without burning through your budget.
Where to Buy The Brother SQ9185 Machine
Brother sewing machines remain popular and the Brother SQ9185 130 Sewing and Quilting Machine can be found online at the following retailers:
And of course, on Amazon.
---
Curious to try all the features of the Brother SQ9185 Sewing and Quilting Machine?
Not sure if this is the model for you? Browse our latest machine reviews.
Brother SQ9185 Review
User Experience

Sewing Specs

Ease of Use

Craft Sewing Specs

Price
SFH Verdict
The Brother SQ9185 Sewing and Quilting Machine acts as an all-in-one tool when it comes to tackling small and major sewing projects. An array of features and additions are all packed into an alluring affordable price. Take the time to use the guides that come with the machine and you will be breezing through projects in no time.