There aren't a lot of machines out there that focus solely on embroidery. With machines that try to combine sewing and embroidery, or quilting and embroidery, you'll often notice a preference for one of the two.
While this isn't a bad thing, it does detract from the greatest potential of any machine. So the mastery of one single craft like embroidery means that very little can go wrong.
Because of its specialization, the Brother PE540D 4×4 Embroidery Machine is simple to use and conjures even the most complicated designs without so much as a hitch.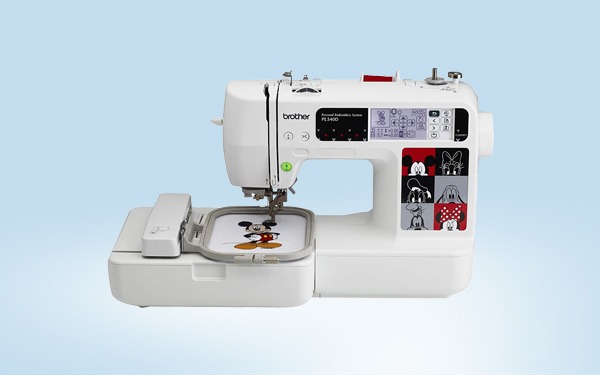 With the added Disney designs, your projects gain a touch more whimsy, while you can also download more designs and fonts to really grasp the best results.
Sewers looking for a new sewing machine are sadly barking up the wrong tree. The Brother PE5400 is designed exclusively for embroidery, and it does it well.
Professional seamstresses might have some gripes with the small working area, but for the at-home sewer, this should pose little to no problem.
Brother PE540D Embroidery Machine: The Details
The Look
The Brother PE540D Embroidery Machine looks colorful and very kid friendly, thanks to Mickey Mouse and his friends livening up the machine.
This doesn't mean that it'll feel like you're working on a kiddie machine, but if you want to show younger children how fun embroidery can be, this device will certainly help in doing so.
Both the weight and size of this machine are medium, so you probably won't have much trouble moving and storing it. Although with the eye-catching design, why would you even want to hide it away?
Specs
Weight: 4 pounds
Dimensions: 3 x 15 x 15.2 inches
Stitches: 35 built-in Disney embroidery designs, 70 decorative designs, 5 embroidery lettering fonts and 120 frame pattern combinations
Speed: Up to 400 stitches per minute
Computerized/Mechanic: Computerized
Bobbin: Standard bobbin system
Warranty: 25-year limited warranty
Accessories
As a machine that is solely intended for embroidery, you can expect all of the added accessories to reflect this.
Something which might surprise users new to computerized embroidery machines is the USB cable – but trust us, it has its uses.
The included accessories are as follows:
Embroidery foot
Standard Brother-Size bobbins
Light threads (4)
Sets of needles
Brush for cleaning
Ripper for the seam
Screw driver
Spool covers (4)
Net for the spool
Scissors
Stylus
User's manual
USB cable
Accessory bag
Dust cover
4" x 4" embroidery hoop
User's manual
Brother: The Company
Brother might have started out in Nagoya, Japan, but these days, they're a true world-wide company.
Among their most notable feats is the 2012 opening of their pride and joy, the world's largest single-company factory, which is dedicated entirely to the production of sewing machines.
Their sewing machines regularly swipe prizes and honorable mentions and are especially beloved by those who look for versatility in their machines. This is something which the founders could only have dreamed of 120 years ago.
Today they're taking care of their customers in the digital age, by starting their online blog, Sewcial, as well as making updates for their computerized sewing machines available online.
They might have been around for more than a century and then some, but Brother keeps moving with the times.
The Warranty
The Brother PE540D Embroidery Machine falls under the limited 25-year warranty, which is their own standard for their sewing machines.
The warranty ensures that the machine and additional parts will arrive in functioning order.
Should your machine suffer wear and tear through normal use, please check which parts of the machine are included in which part of the warranty.
Not all parts of the sewing machine are covered for the same amount of time, so double checking the rules is always useful.
As always, make sure to check with your supplier, as their warranty guidelines may differ from what is described here.
Features
Plenty of Stitches
With 35 built-in Disney embroidery designs, 70 decorative designs, five embroidery lettering fonts, and 120 frame pattern combinations, it'll be hard to choose which ones you want to try out first.
The combinations possible with this machine are near limitless, and you'll be livening up handkerchiefs, pillows, and more in no time.
Download More Designs
Thinking of a specific design, or want to give family members a gift with a specific Disney princess or prince?
Thanks to the USB cable, you can purchase additional designs on Ibroidery, or enjoy the occasional free pattern that becomes available.
Create Your Own Patterns
You can also create and upload your own patters, perfect for the creative souls among us who won't take basic for an answer.
Enjoy making more special designs and see them come to life. With a bit of design, everybody can see their creations realized on fabric.
Automatic Needle Threader
There's no need to spend half an hour trying to thread your next color for a design.
Once you get the hang of the automatic needle threader, switching out colors becomes a breeze and you'll be finished in no time.
LCD Touchscreen
The backlit LCD touchscreen included on the embroidery machine makes it easy to keep track of your designs, and follow along.
This display can act as your 'control panel' where you can edit design features, see what built-in designs you have, and follow tutorials.
Lit Workspace
Along with the help of the LCD touchscreen, you'll be able to let your creativity flow through the night, even in dark spaces.
The Brother PE540D includes a light that brightly illuminates the needle area, allowing your incredible designs to not be halted when the sun sets.
Brother PE540D Embroidery Machine Review
The Positives
Kid Friendly
Once Mickey Mouse and his friends get involved, you know a device will be friendly for kids.
Although it's recommended to have some adult supervision in the first few times they use this embroidery machine, the process is very simple.
Kids will certainly enjoy seeing how they too can create amazing things.
Free Upgrades
Thanks to the USB cable, you can connect to the Brother site at any moment and receive updates when they become available.
Now your embroidery machine will never become outdated, and you will always be able to say you have the best embroidery machine on the market.
Little Set-Up Required
Place the embroidery hoop, choose a pattern, and load your first color. That's really all there is to it.
If you've ever set up a printer, camera, or other home device, it will be a cinch for you to get your Brother PE540D up and running.
Once you've got the hang of this Brother embroidery machine, nothing will be able to stop you.
Here's what the Brother PE540D looks like out of the box.
Easy to Use
We've mentioned this is a great machine for beginner sewers and even children. The main reason is because its so easy to use and to get accustomed to.
Once you've gotten your Brother PE540D set up, there's not too much of a learning curve when it comes to this machine, making it a great choice for beginner and novice embroiderers.
Users will not only have a detailed instruction manual to help, but the LCD screen tutorials will also assist in guiding you on your embroidery adventures.
Price
For a machine this sturdy that performs beautifully, you don't have to empty your savings account.
The Brother PE540D comes in at a very competitive price in comparison to many other embroidery machines on the market, so you won't have to invest too much before tackling your dream projects.
This is a great point for budget crafters, beginners who are looking to dabble in the world of embroidery, or for the occasional user who doesn't intend on spending too much time (or money) crafting.
The Negatives
Limited Work Area
There is little you can do to expand your initial working area.
While you can make do by moving the fabric, repeating patterns, and other tricks to make designs more interesting, professional seamstresses probably won't be satisfied with the workspace this embroidery machine offers them.
Good Quality Thread Required
The Brother PE540D can get finicky, and cheaper thread has a tendency to snap and ruin your entire design.
Invest in a higher quality thread and you'll end up feeling less frustrated – though this can be expensive.
Little Memory
For so many designs, this Brother machine doesn't pack the memory to hold it all.
Even though you have the option of thousands of designs at your fingertips, it will be a problem to fit every one of them into the Brother PE540D's small memory.
This means you'll most likely have to delete some old designs before adding new ones to your machine.
Those who are looking to experiment with new designs frequently may get annoyed with a task that may become cumbersome depending on how many designs you'd like to tackle.
Overall Verdict
The Brother PE540D shows how well a machine can perform when we go for specialization instead of a Jack-of-All-Trades.
With a quiet and smooth working process, paired with a timely beep to let you know when the machine is done, you'll get through your embroidery faster and better than you ever believed possible.
This embroidery machine is suitable for those who know they won't tackle big projects, who want access to a wide array of designs, or those who want to keep young children happy and possibly even introduce them to the world of embroidery.
The only people who will be less impressed by this machine are professionals doing this for a living.
Seeing as how the Brother PE540D Embroidery Machine was designed for the at-home hobbyist, this is a small price to pay in return for affordable quality.
Where to Buy the Brother PE540D Embroidery Machine
Brother is a well-known brand that's earned its place as a staple in department stores and specialty shops. Because of their decades in the sewing game producing quality products, Brother machines are definitely not hard to find.
The Brother PE540D Embroidery Machine is an example of the quality machines Brother has put forward and due to brand popularity and its own performance, this machine isn't a fuss to find both in-store and online.
To start, check out the following online retailers.
And of course, it can also be found on Amazon.
---
That's it for our review on the Brother PE540D Embroidery Machine. Curious to give it a go?
Not sure if this is the model for you? Browse through the rest of our sewing machine reviews.
Brother PE540D Review
User Experience

Sewing Specs

Ease of Use

Craft Sewing Specs

Price
SFH Verdict
Those looking to explore the world of embroidery will enjoy the benefits of having a Brother PE540D Embroidery Machine on hand.
This machine is super easy to use, and great for those looking to experiment with a wide range of designs and possibilities.
Though if you're looking for more than embroidery, this machine isn't for you.