Brother releases new sewing machines time and time again, challenging themselves to do better than before.
With the Brother PE525 Embroidery Machine, they're appealing to the embroidery community by offering a new way to create exciting designs.
The 4" by 4" workspace will be plenty for the at-home embroiderer, but even the experienced creator can find a use for this space.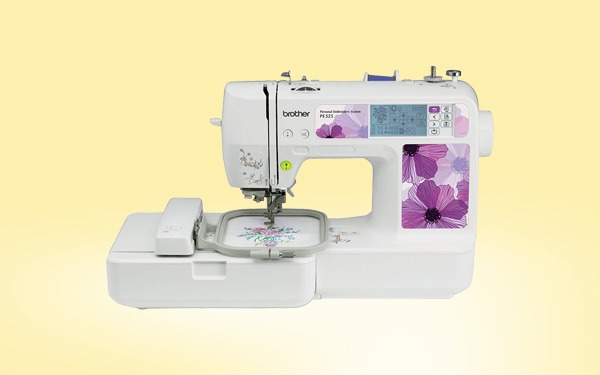 Combined with a whopping 70 embroidery designs and a 120 frame patterns, this machine offers possibility in one convenient package.
The new Brother sewing machine totes the 'easy to pick up' motto as an incentive to attract new embroiderers, so let's see if it really lives up to this idea or not.
Brother PE525 Embroidery Machine: The Details
The Look
Embroiderers are into the craft because they love to create beautiful, colorful decorations and personalize their craft.
The Brother PE525 plays into this with nothing less than an artistic exterior, leaving no doubt that this is a machine that deals solely in the art of creating beauty.
The purple decoration demands attention from the moment you lay eyes on it, and even lends an air of glamor to the useful instructions.
The smaller size and reasonable weight play into the hobbyist and beginner lifestyle.
This machine doesn't need a lot of space to make a big impact. Feel free to take it along to classes or show it off to friends.
Specs
Weight: 2 pounds
Dimensions: 3 x 15 x 15.2 inches
Stitches: 70 built-in embroidery designs, 5 lettering fonts and 120 frame patterns
Speed: 400 stitches per minutes
Computerized/Mechanic: computerized
Bobbin: Quick set drop-in bobbin
Warranty: 25-year limited warranty
Accessories
Embroidery doesn't deal with as many necessary accessories like sewing does, so these added items are a very nice bonus.
4X4 embroidery hoop
Embroidery card
Thread
3 prewound bobbins
USB cable
Touch pin
2 screwdrivers
4 spool caps
Needle set
Scissors
Seam ripper
Cleaning brush
Machine dust cover
Accessory bag
Brother: The Company
Brother saw daylight well over a century ago in Nagoya, Japan, where the art of sewing inspired their first sewing machines.
Though over the years they've branched out to include items such as printers, desktop computers, label printers and a wide array of other computer-related electronics, their main focus has always remained with their one true passion; their sewing and embroidery machines.
By now it's become near impossible to keep track of how many sewing machines have been released under their name.
Targeting every experience level and geared toward sewers, embroiderers, or quilters, Brother continues to improve on their product line.
With every new iteration of their ideals being better than the others, we can't wait to see what tomorrow will bring.
The Warranty
The 25-year limited warranty is the most common of warranties in the sewing world, showing that Brother has trust in their products.
This warranty covers all normal wear and tear, including damage that might have been incurred through shipment.
Not all parts enjoy the same status under this warranty, so be sure to read the details through carefully.
With this sewing machine, you also enjoy a lifelong right to telephone support, something which can come in handy if you need a verbal explanation.
Features
4" x 4" Embroidery Area
The four by four embroidery area is ideal for beginners and those most fond of smaller- to medium-sized projects.
This is still a pretty decent size, and least likely to scare off new users.
By repeating the same pattern several times or dividing up a larger project in smaller pieces, you open up a ton of new possibilities.
Automatic Needle Threader
A sewing machine wouldn't be a Brother sewing machine without the automatic needle threader feature.
This feature might seem small but it does wonders in saving time, fuss, and frustration.
It's no wonder so many sewers can't live without it.
Quickset Drop-In Bobbin
Another time saving feature is Brother's jam resistant drop-in top bobbin feature.
This in combination with the bobbin-winding system ensures that you'll be up and running in no time, without fussing with your machine and tools.
70 Built-In Designs
With 70 starter designs, you have everything you need to get used to the Brother PE525 embroidery machine.
These designs are rather simple, don't ask for much color, and so make perfect practice designs.
Some of the testers reported that there is quite a learning curve to this embroidery machine, so it's not a bad idea to use simpler designs to get the basics down.
Import More Designs
Done fooling around with the starter designs?
Once you feel like you've got this embroidery machine mastered, it's time to venture into the exciting new world of online embroidery designs.
Ibroidery is one of the most often used sites where you can encounter some truly stunning designs. You can even add new fonts to your machine this way.
5 Embroidery Fonts
Did we just mention fonts?
To start with, you have a decent selection of five fonts to use, which are ideal for learning the ropes while also making personalized gifts for friends and family.
If these aren't enough for you, a little online searching will show plenty more available for download.
Rotate Your Designs
Instead of rotating your fabric around, it's much easier to rotate the design.
By changing the angle by 1, 10, or 90 degrees at a time, you can add a little more panache to your designs.
Who said embroidery couldn't be dynamic?
Brother PE525 Embroidery Machine Review
The Positives
Runs Itself
Okay, the Brother PE525 doesn't run by itself completely, but it has gotten pretty close to doing just that.
Once you've got your thread selected, threaded, and have chosen your design, it's just a matter of keeping an eye on things and leaning back to enjoy a masterpiece in the making.
With features like automatic threading and the auto-bobbin you really don't have to do much to get the designs of your dreams.
Size and Portability
This machine might be sturdy, but that doesn't mean it's too big or heavy to be portable.
The Brother PE525 is made to be lightweight enough to take with you to class, or wherever it is you feel like sewing with little effort.
It also won't be too much of a space consumer if you decide to leave it out in your crafting room. And if showing off isn't your style, it will be a cinch to pop it into your cupboard or closet until you need it.
Here's a video showing what the Brother PE525 Embroidery Machine looks like out of the box.
Price
For a machine that has it all, it doesn't demand every last penny from your wallet to own it.
The Brother PE525 comes in at a very competitive price, making it easier for those who want to try out a new hobby.
Starting new hobbies can be expensive, but Brother makes it easy by offering this embroidery machine at a price-point well below the competition.
Touch Screen
The touch screen is sensitive, informative, and easy to read.
These are three key components in smoothing out the learning curve and getting you more comfortable with this embroidery machine.
Well-lit Workspace
You're often working with some truly gorgeous fabric, and you deserve being able to see what's going on with it.
By having a well-lit workspace, you'll always know what's happening, and you're saving your eyes as well.
Quiet
You won't have to worry about waking up the neighborhood with the Brother PE525.
This machine runs very quietly so you won't be waking up or annoying your loved ones when you decide to tackle a pattern.
The Brother embroidery machine also runs smoothly, taking away the need to alter or repair your material after jumps and skids .
The Negatives
Embroidery Only
It's necessary to emphasize that this embroidery machine does not sew, and that those looking into buying their first ever machine should keep this in mind.
You wouldn't want to un-package your Brother PE525 only to be left disappointed.
Learning Required
Every effort has been made to keep the learning curve as low as possible, but when a machine has this many options, there will always be a learning curve.
Keep good track of your manual and don't be afraid to ask someone for help. We've all been there, so don't worry if you can't pick it up right away.
Only Available in the USA
If you're planning on purchasing the Brother PE525 outside of the US, you're in for some bad news.
The Brother PE525 is only shipped to addresses in the United States. This could be due to the fact that most Brother machines use standard US voltage which isn't compatible with higher voltages in other countries.
While you could use a voltage converter, this will void your warranty.
Overall Verdict
The Brother PE525 Embroidery Machine is an excellent machine that offers a lot of customizable fun for every user.
Although it's marketed at beginners, there is a learning curve for even advanced users simply because you need to learn how to find your way through all of the controls.
Its biggest drawback is the working space, which will always remain the same size. While some creativity will allow you to work around this, there are people who prefer to just shell out for more working space.
In conclusion, this is an ideal embroidery machine for the hobbyist on a budget. Because you can download as many additional designs as you want, there's no risk of getting stuck in a rut.
This also means you're not being charged extra for the limited amount of designs you'd otherwise be restricted to; Brother intends for you to get creative as much as you want.
If you're not afraid of making a few mistakes and learning from them, this is the best embroidery machine to start learning the craft with.
Where to Buy the Brother PE525 Embroidery Machine
As we've mentioned, the Brother brand has been around for ages and can be easily found in stores worldwide.
The Brother PE525 Embroidery Machine is no different, and its rise in popularity makes it a cinch to find both in retail stores and online.
Check out the following online retailers to start.
And of course, it can also be found on Amazon.
---
That's it for our Brother PE525 Embroidery Machine review. Care to give it a go?
Want to see other models before you make a decision? See our latest user reviews.
Brother PE525 Review
User Experience

Sewing Specs

Ease of Use

Craft Sewing Specs

Price
SFH Verdict
The Brother PE525 Embroidery Machine is a great option for those looking to start in the world of embroidery, and for those who aren't looking to spend a fortune on a solid machine.
Backed by a long 25-year warranty, this Brother embroidery machine is built strong to last, while still being lightweight and portable.