The Brother LS2125i is also known as the Brother Everyday sewing machine for a reason: it's compact and tidy, perfect for those who are in the habit of doing some light sewing on a regular basis.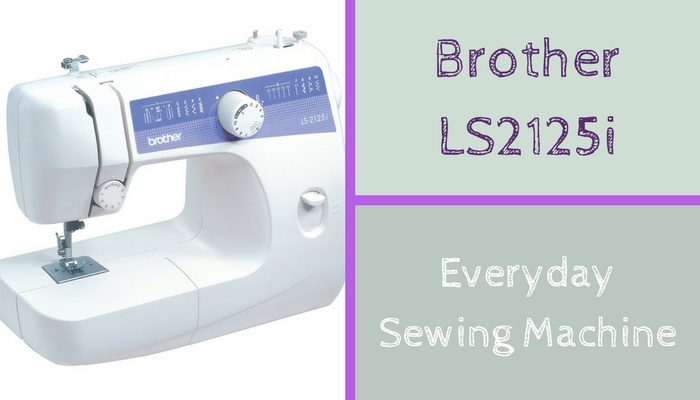 Marketed mostly at beginners, this sewing machine makes a point of being as straight to the point as possible.
It's a great machine for figuring out where your strengths lie, with a more than affordable price tag. But we'll let you decide. Here we've broken down the nuts and bolts so you can conclude whether it's the right machine for you.
Brother LS2125i Everyday Sewing Machine Review
Brother LS2125i Sewing Machine: The Details
The Look
The Brother LS2125i is a compact machine, weighing in at approximately 13 pounds. The predominantly white exterior gives it a professional look, which benefits from the dark and lighter blue trimming, giving it a welcoming feel.
Thanks to the small size, it fits in any room without taking over the space. The reverse lever on the front of the machine is discreet and enables the user to lock stitches into place.
The extension arm can be removed, making it possible to place sleeves and the like on the working area.
The LS2125i sewing machine takes pride in what it is and doesn't distract from that function with extra bells and whistles.
Specs
Weight: 13 pounds
Dimensions: 11.54 x 6.14 x 14.84 inches
Stitches: 10 built-in stitches, each with multiple stitch functions, and a built-in 4-step automatic size buttonholes
Speed: up to 900 stitches per minute
Computerized/Mechanic: Mechanical
Bobbin: Front loading bobbin system
Warranty: Brother standard limited warranty
Accessories
Remember the 'no bells and whistles' part? That goes for accessories as well. The Brother LS2125i is intended as a basic sewing machine, for the modest and simple projects you have lying about. The accessories included are limited to necessities, which is a definite upside for the beginning sewer.
A foot pedal
3 presser feet
Screwdriver
Needle pack
Bobbins
Extra spool pin
Twin needle
Darning plate
An English and Spanish instruction manual
You will find most of these accessories can be stored in the built-in storage compartment at the front of the machine.
Brother: The Company
The Brother company has been around for nearly 120 years, albeit it in a different name. The company was founded as a sewing machine producer in Japan, Nagoya, under the name of the Yasui Sewing Machine Company. Since then, the company has made a point of expanding globally, branching out in many different technological ventures.
However, sewing machines have always remained close to their heart. In 2012, the company had the honor of opening not only the largest single-company factory in the sewing machine world, they also produced their 50 millionth home sewing machine.
They are represented globally in more than 45 countries. Their website reflects that they prize themselves on a long history and their dedication to growth and sustainability.
The Warranty
The Brother Everyday sewing machine falls under the limited 25 year warranty, which is standard for most sewing machines. The warranty insures that the machine and additional parts will arrive in functioning order. During the first year after purchase, Brother will replace or repair small parts.
Electronic components and printed circuit boards enjoy a two year guarantee, while the chassis is insured for 25 years after purchase. Because the validity of your warranty is determined by your receipt date, it is recommended not to discard it.
Features
The Brother LS2125i has subscribed to the 'less is more' school of thought, and does it well.
The 10 built-in stitch options mean beginners can get started on repairing and hemming clothes, curtains and a variety of other projects. They make it possible to tackle satin, zigzag or straight, elastic, stretch and blind hem stitches. The buttonhole feature makes it easy to attach buttons to your project.
Thanks to Brother's expertise, changing the presser feet is made easy and fast.
Thread tension can be adjusted to your needs with a dial control.
The traditional flat bed can be converted to a free arm, making it much easier to work on sleeves and the like. The light weight and carrying handle make the machine a breeze to take with you to classes or to a friend's house for a communal crafting session.
Brother LS2125i Review
The Positives
The Brother Everyday sewing machine does its name justice.
The model has a limited amount of stitches which are exceptionally well suited to the sort of day to day maintenance most users encounter.
As long as you take care of your machine, even more heavy-duty fabrics such as denim become a breeze.
Many users report that Brother LS2125i is their go-to sewing machine when it comes to using fabrics such as denim, polyester, and many others. More adventurous or experienced users can try their hand at manual embroidery with the machine.
The buttonhole feature is adjustable, meaning you can use different sizes of buttonholes for your projects.
The machine comes with only a few added presser feet, but as your skills – and needs – grow, it's easy to pick up more feet made by Brother.
As long as you make sure they match the machine you have, switching between them as you work should be a snap. That's not to say that the included feet fall short; many people go years without looking for more additions and prefer to work with what was included. Quilters who need to replace a machine or who are new to the craft should certainly consider this sewing machine.
Thanks to the light weight of the machine, moving it has become an easy task. At the same time, the machine doesn't move around when you're working, ensuring that there will be no unfortunate mishaps as you finish an ambitious project.
The overall simplicity of this sewing machine is its main selling point; it is mostly advertised as a beginner machine for this reason.
Many users who eventually graduate to more sophisticated models keep returning to the Brother LS2125i, or gift it to younger family members who can safely use it with some supervision.
The Negatives
The Brother Everyday sewing machine can get fussy when not properly maintained; leftover bits of lint in places where they shouldn't be can cause tension to drop or stitches to be skipped.
Some users report problems with the bobbin popping out or thread losing tension as they work. This most often has to do with inexperience with inserting the bobbin in the bobbin-case.
Most problems can be solved by perusing the manual, and if that doesn't work, you can always phone in and explain your problems to an expert.
Overall Verdict
If you're looking to buy your first sewing machine or replace one of your beloved older machines, the Brother LS2125i has a great money-for-value ratio.
Mostly targeted at beginners, it's easy to see why. It's simple to use and has excellent manual and phone support. The light weight means it can easily be carried to class or to a more experienced friend, while it is stable enough to ensure a smooth working experience.
The light price tag makes it a good testing machine to see if you would enjoy sewing as a hobby, without breaking the bank.
---
Have you used the Brother LS2125i Everyday Sewing Machine yet?
For more reviews, head over to our complete archives of machine reviews.
Brother LS2125i Review
User Experience

Sewing Specs

Ease of Use

Craft Sewing Specs

Price
SFH Verdict
The Brother LS2125i Everyday Sewing machine is exactly what it says on the tin: an everyday sewing machine, that's well equipped for mending and other general tasks.
It's very simple to use and reasonably reliable, and beginner sewers find that it's a great springboard machine into more sophisticated models. It's also pretty cheap, but there have been a few problems with the bobbin popping out and tension loss to take into account.