Are you looking for the best cheap sewing machines? We've got you covered!
A sewing machine is an indispensable piece of kit for any sewing enthusiast.
Sadly, not all of us have budgets big enough to be able to afford a top of the range machine.
The good news is that there are plenty of cheap sewing machines out there that have all the basics you need for a wide variety of sewing projects.
Let's take a closer look…
Features Of Good Budget Sewing Machines
Inexpensive sewing machines don't have as many features as higher end versions, but they should nevertheless have the following…
A good range of stitches that cover all basic needs, such as utility stitches, stretch stitch, and a buttonhole feature. Decorative stitches are a bonus, and can be found on some budget sewing machine models.
Ease of use is vital. Just because a sewing machine is less expensive it doesn't mean it should be complicated or fiddly to use. Features such as an automatic needle threader are a big plus.
A decent work space. This means a sewing area that is well lit, with a large throat which makes it easy to push through larger volumes of fabric, a free arm for sewing hems on pants and such, and if possible an extension table for extra room.
Durability and stability. It's not easy for anyone to sew on a machine that is wobbling around or flimsy. Even cheap machines should have a certain quality of construction and be sturdy.
A motor that is powerful enough to run the machine at a decent speed and that can handle a wide range of types and thicknesses of fabric.
A good warranty and guarantee – because even though you won't be spending big bucks, it's best to have some insurance should something go wrong with your sewing machine.
If you are looking for the best rounded machines for all levels, see our buyers guide to the best home sewing machines on the market today.
Are Cheap Sewing Machines Suitable For Beginners?
Provided that they are of a reasonable quality and are intuitive to use, cheap sewing machines are perfect for beginners.
They aren't over complicated and are a great way to get to grips with how to use the basic functions and stitches of a sewing machine without making a huge investment.
Cost Guide
There are lots of brands that offer sewing machines for a budget of $100 or less, many of which are well reputed.
These include Singer, Brother, Janome, and a few less known brands such as Spiegel, Oakome, Husqvarna and Michley.
Price Engineering
As you would expect, sewing machine manufacturers have to make compromises with cheaper sewing machine models in order to sell them for a lower price.
Typically this means that they may have fewer stitches, less automatic features, a smaller motor, fewer accessories, plastic parts rather than metal, and so forth.
Essentially you should expect a cheap sewing machine to give good performance, but be fairly basic.
The Best Cheap Sewing Machines
The petite Brother XM2701 has the advantage of being very lightweight and compact, which is great news if you need to carry it to and from sewing class.
This cheap sewing machine is very straightforward to use. It features a time saving automatic needle threader and a top loading drop in bobbin which resists getting jammed up, plus easy automatic bobbin winder.
There are 27 stitch styles plus a one step buttonhole, which is fantastic for a budget machine as there are quilting and decorative stitches as well as utility stitches to enable you to achieve more with your projects.
Stitches are selected by a simple turn of the stitch selector dial and maximum stitch speed is an impressive 800 stitches per minute.
The free arm allows you to sew tight spaces, and 6 different presser feet are included.
Pros
Small, lightweight and easy to carry
Very user friendly
Quiet yet powerful for its size
Good range of built in stitches
Great for beginner sewists
Easy to follow instructional DVD included
Adequate for sewing most types of fabric
Cons
LED light is a little dim for our liking
Presser foot pressure is not adjustable for thicker fabrics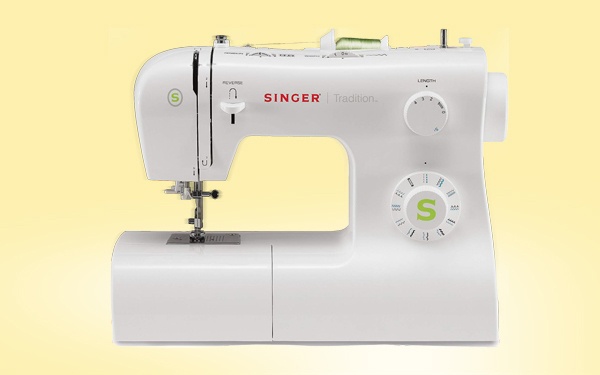 The SINGER Tradition 2277 Sewing Machine is designed to be robust with a strong internal metal frame and has a free arm for cuffs, hems, and more.
The needle can be threaded with ease thanks to the automatic needle threader, and a presser foot with extra high lift means that it can accommodate thick fabric or sew multiple layers of fabric simultaneously.
The round stitch selector dial enables you to choose between 23 different stitches with adjustable length and / or width, including utility stitches, a simple one step buttonhole, stretch stitches, and some pretty, ornamental stitches too.
Thread tension is adjusted automatically, and the needle can be adjusted to a variety of different positions.
The Singer 2277 comes supplied with 4 presser feet which include an all purpose foot, buttonhole foot, button sewing foot and zipper foot.
Pros
Easy to set up and control
Sturdy and durable construction
Nice selection of stitches
Good automatic features for added ease of use
Can handle some thicker fabrics
Light and compact
Stitch length and width are adjustable
Cons
Bobbin system can sometimes jam
Some people struggle with the automatic needle threader at first
For quilting on a budget, you won't find better than the Brother XR3774 Full-Featured Quilting Machine.
Packing a lot of features including an automatic needle threader, free arm, and an anti-jam top drop in bobbin system with time saving automatic bobbin winding, this budget sewing machine already offers a lot for the low price.
Where it really excels is as a quilting machine, due to its varied range of 37 adjustable stitches, including stitches designed specially for quilting, decorative stitches, 1 step buttonhole, and more — all of which are easy to select using the stitch selector dial.
The extra large, wide extension table provides the additional work space necessary for quilting and other more sizable projects.
There are 8 presser feet included with this sewing machine, and the machine has a fantastic top sewing speed of 800 stitches per minute.
Pros
Versatile for both quilting and sewing
User friendly
Lightweight enough to be moved from place to place easily
Creates a minimum of sound
Wide table extension
LED light is nice and bright
Comes with a good selection of presser feet
Lots of different stitches available
Cons
No thread cutter
Throat could be larger to offer up more workspace for larger projects
The Spiegel SP3201 Sewing Machine is compact with a retro style appearance.
This budget mechanical sewing machine model has everything you need for most basic sewing projects, including 32 built in adjustable stitches of various styles including everyday stitches and decorative stitches for embellishing your sewing and craft projects, plus an automatic buttonhole setting — any of which can be selected using the pattern selector dial.
You can thread the needle on the Spiegel SP3201 effortlessly due to the automatic needle threader, and thread tension can be manually adjusted when necessary using the tension dial.
The top loading bobbin is also a nice touch, and the automatic bobbin winder is quick and easy to use.
This sewing machine can also be converted to a free arm for sewing hard to reach areas and is capable of sewing up to 700 stitches per minute. Included within the accessories are a zipper presser foot, an all purpose foot, and a buttonhole foot.
Pros
Simple to set up and use
Easy to thread
Very inexpensive
Nice range of stitches
Ideal for beginners
Light and compact
Bright and well placed LED light
Cons
Stitch quality doesn't compare to the better brands on this list like Singer and Brother
No automatic thread cutter
Constructed from plastic parts so not very durable
This pint sized sewing machine is surprisingly practical for its low price, and is an excellent choice for completing basic, small projects — particularly if you're on the go as is can also work using battery power.
It only sews one basic stitch at relatively slow speeds of up to just under 300 stitches per minute, and has 2 speed settings.
It also features a thread cutter, a traditional bobbin system, LED light for the work space, and has the bonus of a roomy extension table which both provides more space and stabilizes the machine.
Pros
Very cheap price
Great for travelling
Very simple to use
Can use either mains or battery power
Large work space due to extension table
Lightweight and easy to carry
Built in lighting
Cons
Only one built in stitch
Not very versatile
Does not work with all fabrics including stretch fabrics and thick fabrics
Another mini machine with great portability, the DONYER POWER Electric Sewing Machine Portable Mini is designed with beginners in mind and features a range of 12 useful stitches which can be adjusted for width and length, and which can be selected by simply pressing a button.
There are both fast and slow speed switch settings to ensure that sewing is kept easily under control, or sewing speed can be controlled with the foot pedal.
It can be converted into a free arm for sewing cuffs, hems, and other inaccessible areas, and has a maximum sewing speed of 300 stitches per minute.
It also has a needle threader to help you get up and running as quickly as possible and with the minimum of hassle, and can be either battery or mains powered.
Pros
Easy stitch selection
Very small, light and portable with convenient carrying handle
Good choice of built in stitches for the low price
Simple to use
Great for kids and beginners
Adjustable stitch length and width
Handy needle threader feature
Cons
Can only be used for small, basic projects
Must unplug the battery if you want to use mains power
Despite its simplistic design, the Brother GX37 sewing machine is versatile enough to be used for diverse sewing projects.
It benefits from 37 different stitches, which gives plenty to choose from whether you want something strong and durable for sewing clothes, something pretty for appliqué, sew a buttonhole in one easy step, overlock, or more, and stitch tension, length and width are adjustable.
Even though this is a relatively small and light sewing machine, it can still reach speeds of up to 850 stitches per minute, and it tends to stay stable even when operating at full speed.
The Brother GX37 can also be used for free arm sewing. A simple dial controls the stitch selection, and the top loading bobbin system has an automatic needle threader for added speed and convenience.
There are 6 pressure feet as part of the accessory package which is all you need for most basic sewing projects.
Pros
Straightforward to set up and use
Light and portable design
Gives a good quality stitch
Handy automatic needle threader
A good choice for beginner to intermediate sewists
Well constructed and stable when in use
Lots of stitches for the low price
Cons
Foot pedal feels a little flimsy
Doesn't take a standard size bobbin
No speed control

The NEX sewing machine with 16 stitches is intended for beginners and children who are learning to sew, or for small, simple projects using lightweight fabrics.
It can be powered either using the battery or by connecting to mains power, which makes this cheap sewing machine even easier to move around or travel with.
It features a manual thread cutter, top loading bobbin, adjustable thread tension dial, and both high and low speed settings in the event that you prefer not to use the foot pedal.
Pros
Compact design ideal for travel
Perfect for children
Good for on the go repairs
Reasonable range of stitches
User friendly
Cons
Not very durable
Doesn't work well with thick fabrics
---
Which do you think are the best cheap sewing machines?