Looking for the best Husqvarna sewing machine?
When it comes to successful sewing, a good sewing machine can make a huge difference.
Husqvarna Viking have been creating superior sewing machines since 1872, and pride themselves on sewing machines with high quality engineering, exceptional capability and innovative design.
In this guide we will be taking a closer look at the famed Husqvarna sewing line.
We'll see what makes them such popular machines, and we'll review five of the best Viking sewing machines on the market today, including:
In total there are 24 different machines to choose from, each with their own strengths and weaknesses, but between them covering every modern sewing and embroidery need.
Looking to shop for the best Husqvarna Viking deals?
The best place to get a deal is on eBay (click here to browse) – but you can also try the latest discounts on Sewing Machines Plus, a site offering free shipping on all orders over $49 with big savings of $200+ on some of the most popular Viking machines.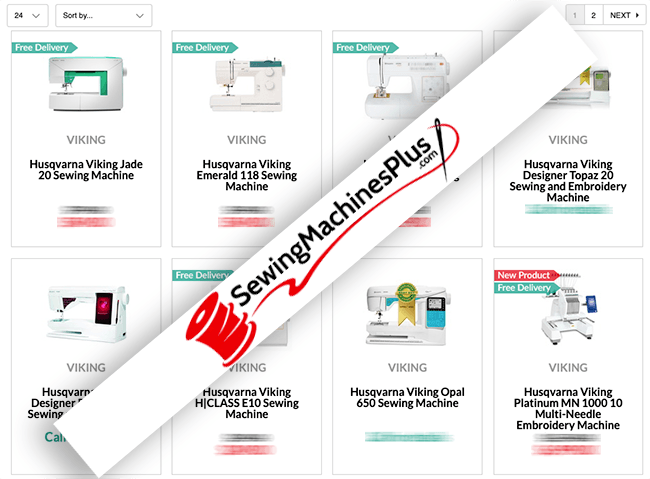 If you're looking for straight up convenience + low prices + one of the most popular Viking series machines, look no further than the Viking Jade 20 on Amazon:
What Makes The Husqvarna Viking Series Great?
Husqvarna Viking sewing machines are highly rated for quality and build, and are some of the best on the market alongside famous brands such as Singer, Brother and Janome.
Cutting edge features make a Viking sewing machine stand out from the crowd.
Among these is the exclusive SEWING ADVISOR™ which automatically calculates and applies settings — such as stitch, stitch width, stitch length, thread tension, sewing speed and presser foot pressure — based on your fabric type, weight, and sewing technique.
Exclusive SENSOR SYSTEM™ technology automatically and continuously senses any thickness of fabric for perfect fabric feed, and Husqvarna's deLuxe STITCH SYSTEM™ has two ways to feed the needle thread and will automatically select the best stitch system to improve the balance between needle thread and bobbin thread, with Thread Portioning to feed the correct amount of thread for every stitch no matter what thread type or fabric thickness when sewing or embroidering.
What does that mean?
It means a lot of the guesswork is taken out of the sewing process. The Husqvarna technology delivers better quality results. Reliability. Consistency.
There are 24 different machines in the Husqvarna Viking range to suit all needs and skill levels, from regular sewing machines packed with top notch features to machines specially adapted for embroidery or quilting, as well as overlock machines.
Husqvarna Viking Sewing Machine Prices
As you would imagine for sewing machines of an excellent quality which give a professional finish, Husqvarna sewing machines are priced at the mid to upper range, but that said they nevertheless represent good value for money considering the build quality, fantastic features and convenience they offer.
Expect to pay around $600 for an entry level machine, and up to $5000 for a top of the range machine designed to give unparalleled performance whether embroidering, quilting, or sewing. These high end machines will also let you work with heavy duty materials like denim, leather and more.
Sure, it sounds expensive as an initial outlay, but the truth is that these bad boys are worth the investment — and an absolute must-have for the most ambitious home and hobbyist sewists.
Comparison Chart
One great way to find the perfect Viking sewing machine for your needs is to use the comparison chart tool on the Husqvarna website:

By refining your criteria, you can search by:
Requirements
Sewing
Embroidery
Overlock
Quilting
Skill Level
Beginner
Intermediate
Advanced
Features
Deluxe Stitch System
Design Positioning
Exclusive Sensor System
Exclusive World Sewing Advisor
JoyOS Advisor
Tablet-like screen
Wifi – mySewnet
Replacing Parts
No matter how good a sewing machine is, parts are going to wear out over time and need replacing.
Thankfully, replacement parts, plus a wide range of accessories such as needle plates, foot pedals, presser feet, bobbin winders, electric components, tension assemblies and more are available to buy from a large number of online dealers as well as sites like eBay.
What is the Best Husqvarna Sewing Machine?
Here are 5 of our favorite Husqvarna Viking sewing machines.
Husqvarna Viking Jade 20 Sewing Machine
The eye catching modern design of the Viking Jade 20 holds a abundance of fantastic features including a generous 8 inch sewing space, a start / stop function, top loading bobbin, adjustable 5 speed control, LED display with presser foot recommendation, built in needle threader, helpful sewing guide, and a useful designer accessory compartment which even has space for the foot pedal.
A true modern computerized sewing machine, the Jade 20 boasts over 80 different 7mm wide stitches including utility and quilting stitches, decorative stitches and 5 buttonhole styles.
Included with the machine are 7 snap on presser feet including a one step buttonhole foot.
Pros
Excellent stitch quality
Suitable for all skill levels
Lots of throat space for sewing larger items
Precise speed control
Huge range of stitches
Plenty of convenient features
Attractive, striking design
Very quiet
Easy to operate
Cons
No automatic thread cutter
Bobbin winding could be more efficient
---
Husqvarna Viking Emerald 118 Sewing Machine
Perfect for every type of sewing, the Husqvarna Viking Emerald 118 sewing machine has plenty of practical plus points. It has a convenient built in needle threader, an easy one step buttonhole, simple stitch selection at the turn of a dial, adjustable speed settings, top load drop in bobbin, needle up and down button, automatic bobbin thread pickup, jam proof full rotary hook and adjustable presser foot pressure.
There are 18 stitches (with 70 stitch functions in all) with adjustable width and length which comprise utility stitches for sewing and mending, tri-motion stitches for knits and reinforcing, and decorative stitches for creative projects.
A practical sewing guide recommends which of the 8 snap on presser feet to use, as well as thread tension and stitch length.
Pros
Affordable
Lightweight and portable
Good choice for beginners
Well built and durable
Can handle heavier fabrics and multiple layers
Quality stitching quality and always highly accurate
User friendly
Cons
Buttonhole function could be more intuitive
Thread tension must be adjusted manually so it may take beginners a little while to fully get the hang of it
---
Husqvarna Viking Sapphire 930
The Husqvarna Viking Sapphire 930 boasts many of Husqvarnas best technological features, including the exclusive SEWING ADVISOR® which automatically sets the machine for you, electronic self-adjusting thread tension, and SENSOR SYSTEM™ Technology which automatically adjusts foot pressure for any fabric thickness and provides an extra lift position for thick sewing projects such as quilts.
The large 10 inch sewing surface is great for sewing larger, bulkier items, and there is a convenient automatic thread cutter, start / stop button, built in needle threader, needle stop up / down button for easy pivoting, and bobbin thread sensor with alert sound to tell you when the bobbin thread is running low.
The Sapphire 930 has more than 200 stitches and four font styles to choose from, with the option to save customized stitch settings.
The Sensor OneStep Buttonhole Foot automatically sews perfect one-step buttonholes every time, and there are 7 different buttonhole styles to choose from. 9 presser feet are included.
Pros
Very easy to use
Incredible high, professional quality
Lots of automatic features
Versatile machine
Sewing surface is well lit with LED lights
Perfect for serious sewers
Superior stitch quality
Large sewing surface
Cons
Quite heavy
Pricey — but worth it if you're serious about sewing
---
Husqvarna Viking Opal 690Q Sewing Machine
Like the Sapphire 930, the Husqvarna Viking Opal 690Q sewing machine benefits from exclusive SENSOR SYSTEM® technology which automatically and continuously senses and adjusts presser foot pressure as you sew on any thickness of fabric, automatically lowers and raises the pressure foot, automatically lowers feed teeth for maximum space for heavy fabrics, and automatically floats the foot above the fabric for instant pivoting, easy applique and quilting.
The Opal 690Q also uses the exclusive SEWING ADVISOR™ feature to optimize the sewing experience. This is a sewing machine with great features include a start / stop button, roomy 8 inch sewing surface, intuitive monochrome touchscreen display, electronic self adjusting thread tension, and an automatic thread cutter.
The bobbin thread sensor let you know when you're running dangerously low on bobbin thread.
There are 7 different pressure feet included, and over 200 stitches to choose from, such as utility stitches, decorative stitches, 7mm stitches, and quilting stitches.
Pros
Incredible high, professional quality
Customizable stitch options
Loads of great automated features
Convenient touchscreen with stylus
Extremely versatile
Comfortable to use for long periods of time
Solid, well built sewing machine
Quiet with very little vibration
Cons
Can be complicated to get to grips with for beginners
---
Husqvarna Viking Designer Diamond Sewing Machine
Designed with embroidery in mind, the Husqvarna Viking Designer Diamond sewing machine has a crazy 1200 stitches in all sorts of styles to choose from, including 26 'dimensional' stitches which allow you to add fabric appliqué and/ or pop-ups for a unique decorative and dimensional effect.
Benefiting from an increased sewing speed, the Husqvarna Viking Designer Diamond aims to reduce embroidery time by 20% or more, with brand new features and the exclusive SEWING ADVISOR® and EMBROIDERY ADVISOR™ deliver guidance when you need it most, with the Embroidery Advisor offering suggestions for needle, stabilizer, top and bobbin thread, plus tips for embroidering with specialty fabrics and specialty threads.
This machine also features the SENSOR SYSTEM™ technology to ensure even fabric feeding.
A large 8 inch full color, high resolution touch screen makes it easy to navigate through various screens for sewing, editing, and embroidery, and the extra long 10 inch free arm makes sewing quilts and other large items easy.
An adjustable lighting system helps you to achieve the best lighting for your sewing environment and fabric color, as well as seeing fabric and stitches in true color.
12 pressure feet and 3 different sized embroidery hoops, plus all the necessary software are just some of the great accessories that come with this sewing and embroidery machine.
Pros
Comes supplied with a wide range of accessories
Large sewing surface
Lots of stand out automatic features
Fast stitching speed
Excellent full color touch screen
Stitches beautifully
Good for intermediate to advanced level sewers
Easily connects to a home PC
Vast range of stitches
Cons
Very expensive
We found the bobbin jammed a few times
---
Do you own a Husqvarna Viking sewing machine? Which model in the series is your favorite?
For more round-ups of our favorite sewing machines, tools and accessories, be sure to check out our Best Sewing Gear portal.