Barbie is now considered to be one of the most influential toys in the world, with the fashion doll first hitting the market back in 1959. Sixty-two years later, Barbie has become a role model for boys and girls alike, with the doll championing self-acceptance and holding countless professions to her name.
And while buying your child a new Barbie doll can be a nostalgic experience, there are some setbacks that could sour the mood.
While Barbie dolls remain somewhat affordable, it can be very easy to round up the cost when you are also buying all the accessories, whether that be her famous dream house or the endless clothes currently available.
Once upon a time, doll clothes were easily purchased from toy stores across the country, but now they are expensive and can drain the budget when buying presents for Christmas and other celebrations.
So if you want to know how you can dress your child's Barbie without wasting your money, then you have come to the right place!
In the following article, we have collected 20 + free printable clothes patterns for your child's doll, so that you can fashion your own costumes without spending a dime. Not only are these patterns fashionable, but they are also suitable for any 11.5-inch doll and can be made using cheap materials found around your home.
So if you want to transform your child's toy into a fashion model, this article has everything you need to get started…
20+ Free Printable Clothes Patterns For Barbie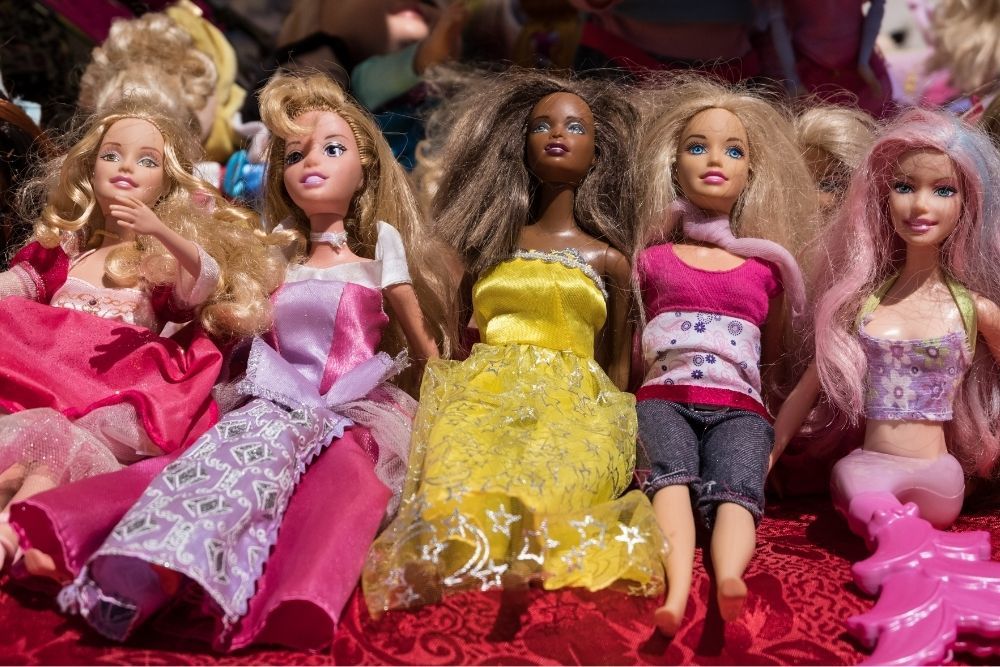 Unfortunately, not all plastic fashion dolls are the same size, which is why some of these free patterns will need to be adjusted before the sewing process.
However, if you do not consider yourself a natural sewer, then you can make the garments using knit fabric so that the fit will be looser and suitable for a variety of different dolls.
Now let's get started…
Dress Patterns For Barbie Dolls
If you are interested in making a dress or skirt for your child's Barbie doll, then look no further than this wonderful selection of patterns from Chellywood. While you may need to do a little searching to find the correct pattern and tutorials, this website offers a wide range of options that will leave you spoilt for choice.
This next pattern comes to us from Craftiness is Not Optional and can be used to create a flowy skirt for your child's Barbie. Just follow the instructions and you will soon have a trendy fashion statement for your beloved doll.
Even though Barbie's wardrobe continues to evolve with each new year, this does not mean that her clothes have to be limited to the fashion trends of today. By using this simple pattern, you will be able to sew a vintage summer dress to rival that of any Hollywood star.
While this pattern was originally designed for an 11-inch Sindy doll, it can be easily adjusted to produce a fun summer dress for your child's Barbie. We personally recommend adding a little fastener to the back of the dress to give it some much-needed flair.
If you are not confident in your sewing skills, then Sewing and Pattern is the website for you. Not only is this site ideal for beginners, but it also offers a range of simple patterns from skirts to wedding gowns. So if you want to sew some cute outfits for your Barbie, this site has everything you need.
The next pattern on our list also comes from Craftiness is Not Optional and can be used to make a beautiful vintage gown with optional spaghetti straps. This is one outfit that every Barbie should have in her closet.
If there's an old pair of jeans cluttering up your closet, then why not use this pattern to fashion a stunning denim skirt for your beloved doll. Fun, simple and eco-friendly – what's not to love?
There's nothing better than upcycling old clothes and with this pattern from The Moody Fashionista, you will be able to turn your child's old socks into a cute and fashionable dress for their Barbie. All you need is a hot glue gun and a little patience.
If you want to make a dress that doesn't require an actual pattern, then you will love this design for a strapless summer dress. Just make the pattern on the doll itself and you will have a beautiful fashion statement in no time at all.
Casual Patterns For Barbie Dolls
This knit pattern can be used to sew an adorable t-shirt for your child's Barbie, giving her a modern and comfortable look. However, you must make sure that you follow the measurements precisely, or you could end up with a garment that is too big for your doll.
We personally adore this simple cap-sleeve top by Craftiness is not optional, which can be made using woven fabric and sewn together in no time at all.
Just because Barbie is considered a fashion icon does not mean that her wardrobe should be limited to gowns and skirts. So why not make your child's doll a pair of comfortable leggings using this amazing pattern from Sew What Yvette.
Outfit Patterns For Barbie Dolls
For a more complete outfit, check out this pattern by Ageberry and sew a fashionable combo for your doll. Featuring an adorable top and skirt, this is one costume that your child will love to add to their collection.
If you visit Emby Quinn, you will find a wide selection of free patterns, which can all be downloaded onto your computer. However, the patterns are written and no feature no images, which means they could be unsuitable for beginners.
Accessory Patterns For Barbie Dolls
If your child loves mermaids, then you can use this pattern by Sew Spoiled to fashion a beautiful mermaid tail and top for their beloved doll. For the best results, we recommend using a water-friendly material so that they can take their mermaid into the bath.
Over the decades, Barbie has taken on many professions from vet to astronaut, and it seems gourmet chef has also found its way onto the ever-growing list. So why not use this pattern by Brassy Apple to sew an adorable apron for your child's doll. You can even adjust the pattern to give it some trim or different colored pockets.
Gown Patterns For Barbie Dolls
Even though Barbie is considered to be a modern woman, there's no denying that children love it when she dresses up as a princess, which is why we have included this link to some of the best gown patterns you will find online. Not only does this site offer patterns for historical garb, but it can also be used to dress your Barbie in some amazing cosplay.
This next website offers a wide selection of fashionable gowns and dresses, which can be fashioned using vibrant materials to give your child's Barbie a unique and glamorous look.
Our next pattern comes from Chellywood and offers a distinctively medieval take on the Barbie princess. So if you want to help your child dress their doll while teaching them about historical fashion, this may be the best pattern for you.
Looking for something easy? Then why not follow this simple pattern by I Can Sew This and make a stunning gown for your child's Barbie. Not only is this design simple to use but it also delivers a beautiful dress that can only be described as graceful.
Our final choice comes from Fashion Doll Stylish, which offers one of the largest pattern collections on the internet. So if you want to make something special for your Barbie doll, this website has everything from princess gowns to panties and shirts for Ken.
See also: the best kids sewing project kits.