The Brother LB6800PRW Computerized Embroidery and Sewing Machine is the only machine in the Project Runway line that offers both general sewing and embroidery, aiming to deliver the best of both worlds to sewers of any level.
Of special note is the ability to import new patterns from websites, just in case you run out of fun with the set that comes pre-installed. For all the monogram fans out there, the machine comes with five pre-installed fonts.
Unsurprisingly at this reasonable price, the machine is very popular — but the embroidery area is a little small and best suited to beginners.
Anyway, we've got the lowdown on the good, the bad, and the ugly with the Brother LB6800PRW so you can decide if it's right for you.
Brother LB6800PRW Project Runway: The Details
The Look
The Brother LB6800PRW might be heavy, but it's still compact enough to maintain a subtle presence in the sewing room. Since this machine combines two roles in one — embroidery and general sewing — this means more space saved in your workspace.
The white exterior, in combination with the blue trimming, gives the machine a professional but still friendly aura.
The LCD-screen in matching colors displays all the stitches available, while the backlight can help those working into the wee hours of the morning.
The 4" x 4" embroidery hoop allows enough room for most projects the beginning sewer dreams off, while the workspace can be lit to ensure visibility. The soft cover and the included rolling bag keep your machine free of dust and in perfect working order.
Specs
Weight: 36.6 pounds
Dimensions: 21.5 x 16 x 22 inches
Stitches: 67 built-in sewing stitches and 98 stitch functions
Speed: Up to 710 stitches per minute for sewing, and 400 stitches per minute for embroidery
Computerized/Mechanic: Computerized
Bobbin: Drop-in bobbin system
Warranty: Brother 25 year limited warranty
Accessories
Since the Brother Sewing and Embroidery Machine delivers the best of both worlds, you'll find that the accessories reflect this goal.
Some of these might be overwhelming for the beginning sewer, but it's nothing that should deter anyone from picking up the hobby.
Project Runway embroidered rolling bag
4"x4" embroidery hoop
Embroidery arm
Soft cover
Buttonhole foot
Overcasting foot
Zipper foot
Button fitting foot
Monogramming foot
Blind stitch foot
Embroidery foot
An English and Spanish instruction manual
USB-cable
As with most Brother sewing machines, enterprising sewers can add to this collection with more feet, which should snap right on. As it is, the provided accessories can be stored in the machine itself.
If you choose to buy the LB6800PRW on Amazon, you'll get a cute Project Runway rolling carry case included.
Brother: The Company
The Brother Company started in Japan, Nagoya, as a sewing machine manufacturer around 120 years ago. Since 1954, Brother International Corporation has been working to fulfill both home and office needs as a US branch of the Japanese-based Brother Industries Ltd. In 2012, they opened the largest single-company factory to produce sewing machines.
Their sewing and embroidery machines were awarded "Consumer Digest Best Buy" in 2013, and the Brother LB6800PRW is perenially ranked highly in the embroidery machine section on Amazon.
Brother's longstanding reputation of creating quality sewing machines, backed by their standard 25 year minimum warranty, stands as testament to their dedication to sewers. They even run a sewing blog, 'Stitching Sewcial,' in order to serve a community of sewers and to provide personal stories, tips, and DIY project designs.
The Warranty
The Brother LB6800PRW sewing machine falls under the limited 25- year warranty, which is standard for most sewing machines. The warranty ensures that the machine and additional parts will arrive in functioning order.
During the first year after purchase, Brother will replace or repair parts. Electronic components and printed circuit boards enjoy a two-year guarantee, while the chassis is insured for 25 years after purchase. Because the validity of your warranty is determined by your receipt date, it is recommended not to discard it.
As always, make sure to check with your supplier, as their warranty guidelines may differ from what is described here.
LB6800PRW Features
Computer Connectivity and Updates
One of the Brother Sewing and Embroidery Machine's biggest features isn't just that it's computerized, but that you can routinely update your machine and download new patterns. The borders of your creativity are nearly limitless thanks to this.
Super Easy Bobbin Winding System
One of the things we love about the Brother sewing machines is the quick set drop-in bobbin winding system — a super easy jam-resistant mechanism that only requires you to move the bobbin to the right once the thread is in place and then press the start button.
Advanced Needle Threader
Not quite an automatic needle threader but still easy to use nonetheless, the advanced threader on the Brother LB6800PRW is clearly marked directly on the machine, which only needs one hand and a bit of attention from you.
Inbuilt Stitches and Designs
There are a grand total of 67 pre-programmed stitches on the LB6800PRW, covering the following types:
Utility
Quilting
Heirloom
Decorative
There are also 70 in-built embroidery designs, 120 frame patterns and 5 built-in fonts.
It's also compatible with iBroidery, allow you to download even more designs — for a price.
Backlit LCD Touchscreen
The LCD touch screen is very easy to navigate, allowing you to access the stitches and designs, as well as the brilliant edit functions: enlarge, minimize, mirror image and rotation.
Needle Up/Down Setting
Reposition the needle and your work easily with just the touch of a button. Automatic and simple!
The machine features a drop-in bobbin system, as well as a needle threader and the needle up/down setting.
Automatic Thread Cutter
The automatic thread cutter complements the advanced needle threader and the easy bobbin winder system, making life just that bit easier.
Seven Point Feed Dogs
The seven-point feed dogs help to handle your fabric more efficiently and ensure a smooth feed. This is usually a feature reserved for higher-end machines so it's great to see it on the Brother LB6800PRW machine!
4″ x 4″ Embroidery Area
The 4″ by 4″ embroidery hoop isn't the biggest we've seen but it's perfect for small designs and narrow monograms.
Beginners will find this ideal.
Adjustable Sewing Speeds
Another beginner friendly feature is the fact that there are three paces available to stitch at — great for working yourself up to an intermediate level and ideal for when you want to take more time over detailed work.
Brother LB6800PRW Review
The Positives
Easy to Use
With the intuitive LCD touch screen and plethora of features aimed at the beginner sewer and embroiderer, you certainly won't have any problems getting started on the Brother LB6800PRW sewing and embroidery machine.
What with the advanced needle threader, automatic cutter and super easy bobbin winding system, you don't have to be an expert to start getting to grips with this machine.
Here's a good video primer about just how easy it is to navigate the LB6800PRW:
Plenty of Designs
When you're looking to get a machine with sewing and embroidery capability, the Brother LB6800PRW can please pretty much everyone.
Thanks to the two-in-one functionality, both beginning and advanced sewers looking to purchase a new machine should at least consider this one.
There are a huge number of inbuilt stitches, designs and fonts — and the ability to get even more, thanks to its compatibility with iBroidery.
Good Stitch Quality
Considering this is priced as more of a mid-market sewing and embroidery machine, we were surprised at the excellent stitch quality it offered.
The feed is super even and smooth, thanks to the 7 point feed dogs, and the sophisticated bobbin system ensures no jams or skipped stitches. It's a reliable, quality machine.
Not Just Embroidery
Many embroidery machines at this price point can only do one thing — embroidery.
Not the Brother LB6800PRW.
This is the only machine in Brother's Project Runway line that is able to do both general sewing and embroidery. And the plethora of stitches on offer means that this machine does well in the versatility stakes.
It's Quiet
Thanks to its relatively heavy weight, this is a pretty sturdy machine with a low vibration factor — even when it's operating at higher speeds.
Good news for late night sewers and anyone working in a small apartment!
Reasonable Price
While we wouldn't go so far as to say that the Brother LB6800PRW sewing machine is cheap, it definitely offers good value for money.
It's a high quality, dual functionality machine with an impressive warranty. It's hard to go wrong with it.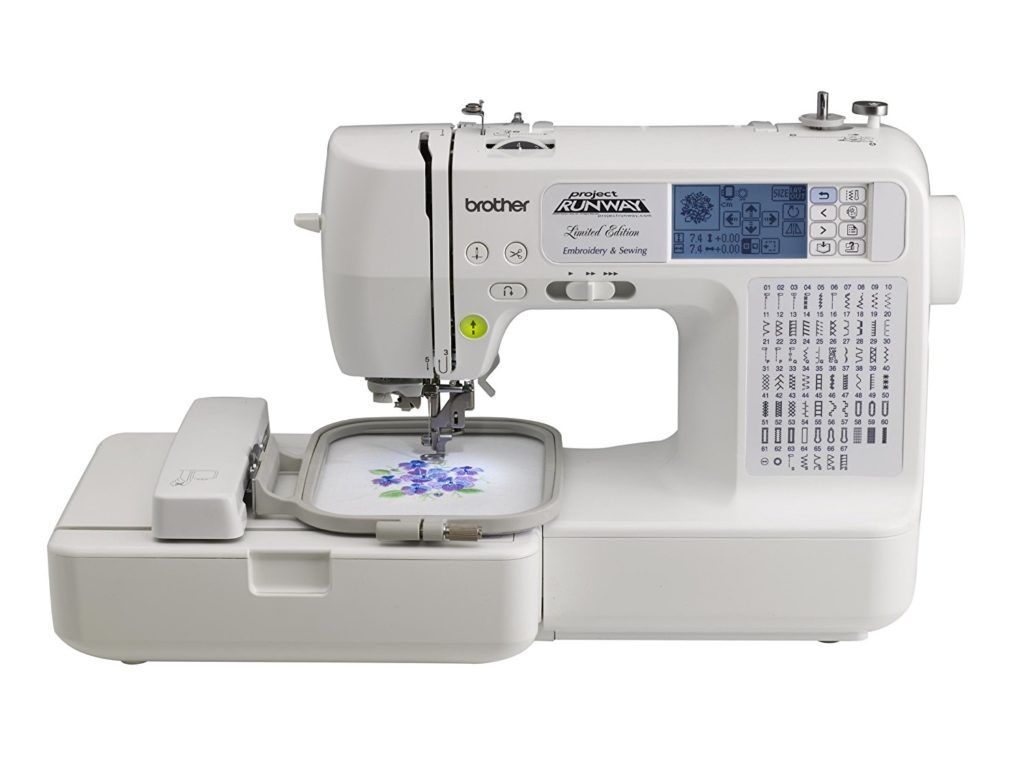 The Negatives
The Small Embroidery Hoop
It works for small projects like handkerchiefs and towels – that's not the issue.
But for those who are looking to tackle big projects, a 4" x 4" hoop may not be big enough. Consider how many big projects you have in the foreseeable future, and decide based on that.
Not Very Portable
At a weighty 36.6 pounds, the Brother LB6800PRW is unlikely to be accompanying you to any sewing shows or craft nights.
If you buy from Amazon, you do get a rolling carry case included which will be a must-have for any sewers on the go.
Overall Verdict
We highly recommend the Brother LB6800PRW sewing and embroidery machine — particularly for beginner embroiderers and people who only work with relatively small scale designs.
This dual-functionality machine has many strengths, but sadly had to sacrifice some embroidery space in return. It makes up for this in the sheer amount of embroidery patterns that come pre-installed, not to mention those available for download.
Add to this the high-quality stitching this machine can deliver, and you have a true all-rounder sitting in the hobby room. The price tag is also very attractive, although the professional sewer may find it a little lacking.
Where to Buy the Brother LB6800PRW Machine
The Brother Project Runway sewing machines are perennially popular and always available in craft and home stores. The LB6800PRW is no different.
You can find it in these online stores for starters:
And, of course, you can find it on Amazon.
---
Are you tempted by the Brother LB6800PRW Project Runway Computerized Embroidery and Sewing Machine?
Not sure if this is the model for you? Browse through the rest of our sewing machine reviews.
Brother LB6800PRW Review
User Experience

Sewing Specs

Ease of Use

Craft Sewing Specs

Price
SFH Verdict
We can't say enough good things about this amazing 2 in 1 sewing and embroidery machine from Brother.
The Brother LB6800PRW is easy to use, reliable, well priced and a good stitcher. It's well suited to beginners and intermediate sewers — more advanced people may find the 4″ x 4″ embroidery hoop a little small.